'I'd love the first black Tour de France yellow jersey wearer to come from L39ION': How Justin Williams plans to change the future of cycling
Williams' team L39ION of LA features more black riders than all three Grand Tours of 2020 put together - here's how they plan to develop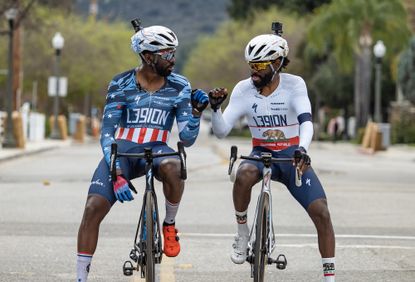 (Image credit: @nickwilsonphoto)
Get The Leadout Newsletter
The latest race content, interviews, features, reviews and expert buying guides, direct to your inbox!
Thank you for signing up to The Pick. You will receive a verification email shortly.
There was a problem. Please refresh the page and try again.
This year at all three Grand Tours we were treated to a fantastic spectacle of racing. Each one went down to the final weekend, with the Giro d'Italia and the Tour de France being decided by a time trial and the Vuelta a España won by just 26 seconds.
The Grand Tours of 2020 are ones to celebrate, how three-week-long bike races could happen during the current global pandemic is phenomenal.
However, something else happened in 2020 which brought focus to another fight - a fight the world has to make together.
In America a dispute broke out over the purchase of a packet of cigarettes, the store worker claiming the $20 used for payment was fake, the police were called, and an arrest was attempted that ended in the death of George Floyd.
The Black Lives Matter movement gained pace, the sporting world took notice and when sport was making its way back into life after lockdown, gestures were made. Footballers took a knee, Lewis Hamilton led the charge in Formula 1 with fellow drivers standing by him, and it seemed as if the rest of the sporting world was following...all except cycling.
Kevin Reza was the sole black rider at the Tour de France in 2020 and on the final stage of the three-week race, in the media pen and in the neutralised zone riders wore face masks with #EndRacism and #BlackLivesMatter on them. However, such was the farce of it "it was probably better had they not even bothered at all," says Justin Williams of the L39ION of Los Angeles team.
"The peloton actually put on more of a stand and protest to a stage which they felt was too long in the Giro d'Italia. It makes a joke of the whole movement, it's embarrassing. To ride a Grand Tour is incredibly hard, Kevin Reza did an amazing job and he deserved more from the UCI and his peers."
Justin is a former Continental Pro Tour rider, riding for Livestrong back in 2010 and completing the Tour of Oman and the Tour of Qatar, before leaving the European racing scene and moving back to America en route to becoming one of the most successful criterium racers in America, if not the world.
Yet in 2017 Justin left a team in which he and his brother Cory were prolific, with Cory taking eight wins in a row. It seemed as if these two riders were the guys to build a team around. That team, Cylance, thought not, and Cory finished the year without a contract, with Justin leaving the team shortly after.
Out of this brought a need for change, and Justin created L39ION of Los Angeles, which has more black riders in it than all three Grand Tours of 2020 put together.
"In 2019 the team started out of necessity. Obviously, we're black and there's a diversity aspect to that but I think people are forgetting that we were the best sprinters in America, and we couldn't get a fair paying job," Williams tells Cycling Weekly.
It's difficult to make change and to try and drive social diversity in cycling when you look around you and quickly realise that finding someone of colour in the sport is incredibly difficult. For all three Grand Tours which were completed this year, less than one per cent of the peloton was a black rider.
L39ION, who are currently sponsored by British kit manufacturers Rapha, has a plan for the future, this year they've launched their first Continental team in the US and have also signed stand-out female riders Skylar Schneider and Kendall Ryan, who will be taking on the criterium across the US. But what next for the West Coast-based team?
"100 per cent I'd love the first black rider to wear the green jersey in the Tour de France or yellow jersey in the Tour to be a L39ION rider," Williams says.
"There's a crossroads at about year five of our plan where we have to figure out what we want to do and where we want to go. Are we going to put a team on the WorldTour and develop a Conti team in the US? Do we even want to go down that route? There are big question marks at year five about how we want to proceed."
For all their hard work so far, it would seem unfair that at year five the team still doesn't know the best route to take. A lot would depend on the quality of riders the team is blessed with. It almost feels as if Williams is carrying the weight of the black cycling community on his shoulders and everyone is asking him or putting it to him to drive the change.
On this Williams says: "It's a lot of pressure, when you start doing this thing, everyone wants it to be done overnight. The sport is over 90 per cent white, so it's hard to find people of colour who are at the level that we're at. We win the biggest races in the States, so we have to uphold that standard. People want us to move a certain way, but it doesn't matter what they want.
"We've started with this vision in mind and this end goal in mind and we're going to work to achieve that."
By his own admission Williams is worried about going to and racing in Europe for this reason: "ASO have their own good thing going on, I don't know if they and the UCI want to change, they don't have to, just to continue racing, they don't. Maybe we build something which is the equivalent to the ASO just for American racing."
"I could probably create and run a full American season league off of what it costs to run one ProTour team. Everyone getting paid, less races, with more value to partners for what you get out of a ProTour Team," Williams adds, explaining why the attraction of racing in Europe is not always the golden ticket which it is perceived to be.
>>> Rapha says Chloe Dygert's apology was 'insufficient' after controversial social media behaviour
If the UCI and the companies which put together Grand Tours can figure out a way to have nine successful weeks of racing between them, after what has been one of the most disturbed cycling calendars ever, why can't they seem to figure out a way to make cycling more inclusive.
"Cycling doesn't want to admit that it has a diversity issue, everyone is getting about their business, seemingly, just fine," says Williams.
"Maybe cycling doesn't think it has to change because it's doing okay. We'll continue to do our thing and when we blaze the trail then maybe they'll see where they've gone wrong."
Thank you for reading 20 articles this month* Join now for unlimited access
Enjoy your first month for just £1 / $1 / €1
*Read 5 free articles per month without a subscription
Join now for unlimited access
Try first month for just £1 / $1 / €1
Get The Leadout Newsletter
The latest race content, interviews, features, reviews and expert buying guides, direct to your inbox!
Myles Warwood is a cycling journalist, automotive journalist and videographer. He writes for Cycling Weekly, Cyclist and Car magazine.