Katusha-Alpecin's Rick Zabel breaks collarbone in off-season crash
The German will undergo surgery after crashing on a bike path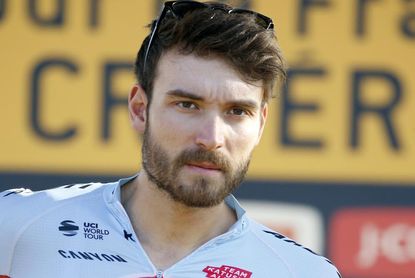 (Image credit: Yuzuru SUNADA)
Katusha-Alpecin rider Rick Zabel has broken his collarbone in an off-season crash.
The 24-year-old came down hard while on a training ride with friends and will need surgery to fix the break.
Zabel, son of retired sprinter Erik Zabel, crashed on a leafy bike path, landing hard on his right shoulder.
>>> Italian pro Alan Marangoni picks up maiden win in his last race before retirement
In an Instagram post, the German said: "Bad news – broken collarbone.
"The day started so good with a cool training ride with my mates but towards the end of the training I crashed hard on a bike path with a lot of leaves on it.
"I felt the pain in my right shoulder and I knew something was wrong.
"Thanks to my training mates who helped me out after the crash.
"I'm in good hands now with Dr Dirk Tenner and his staff, tomorrow is the operation to fix my right collarbone and then I'll know more about everything.
"It's a big setback as I was preparing for the new cycling season."
Zabel has also been forced to pull out of the Shanghai Critérium this weekend.
He added: "Back to zero, recover from injury and then start all over again."
Zabel is due to undergo surgery in Cologne on Wednesday.
A key lead-out rider for fellow German Marcel Kittel, Zabel rode the Dubai and Abu Dhabi tours in the early season, before going on to the Tour de France and Tour of Britain.
His last race of the year was the Münsterland Giro.
Zabel's Katusha-Alpecin team said: "Unfortunately Rick crashed hard today in training on a bike path.
"Diagnosis: broke collarbone.
"He will be operated on tomorrow in Cologne.
"Get well soon Rick."
Thank you for reading 20 articles this month* Join now for unlimited access
Enjoy your first month for just £1 / $1 / €1
*Read 5 free articles per month without a subscription
Join now for unlimited access
Try first month for just £1 / $1 / €1