Mark Cavendish and Peter Kennaugh fight to the end of London Six Day, but just miss out on win
Australian duo Cameron Meyer and Callum Scotson fend off a last-ditch attack from Manxmen Mark Cavendish and Peter Kennaugh to take 2017 London Six Day - Katie Archibald seals women's overall win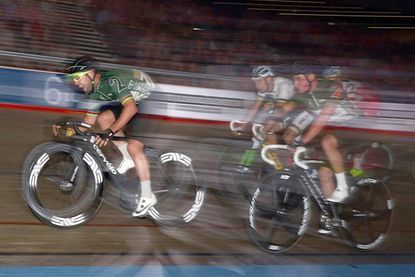 (Image credit: Bryn Lennon/Getty Images)
British pair Mark Cavendish and Peter Kennaugh put in a huge effort in the final event of the 2017 London Six Day to try and overthrow overall leaders Cameron Meyer and Callum Scotson of Australia.
Cavendish and Kennaugh had been steadily gaining on the lead duo after a rocky start to their campaign on the event's opening two days, and overall honours came down to the final race - the Madison Chase.
The final day did not start well for Meyer and Scotson as they faltered in the elimination race and finished last in the 250-metre Madison time trial. It meant that they went into the Madison Chase with just a one lap lead over Cavendish and Kennaugh.
>>> 16 outstanding images from London Six Day so far
After a hectic first half of the race, during which the lead changed hands several times, Cavendish and Kennaugh 'went for bust' heading into the final 20 laps as they attempted to launch an attacks to gain a lap.
Despite making headway, Cavendish and Kennaugh just could not make the junction and they had to settle for second place overall behind the Australians.
"We just had to put all our chips on the table, we tried to get it back and kept getting it back but every time we went they just had us," Cavendish explained after the finish.
"I said to Pete as soon as the lap board came down, let's put all our chips in the centre after 20 laps and go for broke."
Despite missing out for the second year running – he was second with Bradley Wiggins in 2016 – Cavendish said that he was proud of the result, and paid tribute to team-mate Kennaugh who made his top-level Six Day debut in London.
"We just weren't good enough, simple as, but I'm incredibly proud because I used to babysit for this lad," said Cavendish of Kennaugh, who is four years his junior.
"Now we're riding at the London Olympic velodrome and he won here in 2012, we're riding against the best track riders in the world and it's just been amazing."
Kennaugh admitted that he had been affected by nerves at the start of the event, but hit his stride.
"I was shaking with nerves and they were a really tough two days but I've finally got my track legs back these last two days, said Kennaugh.
>>> London Six Day 2017: Everything you need to know
"I really started to enjoy it, but that last chase was something else. I was on the limit, just holding the wheel, and I looked up and there were 50 minutes to go."
Meyer said that he and Scotson had been pushed to the limit to fend off Cavendish and Kennaugh in the finale.
"The last attack from Cavendish and Kennaugh definitely added a few nerves, when Cav takes off he's one of the fastest in the world," said Meyer.
"He opened up that gap real quick, we had to try and stay calm. We knew we had them on the back foot and we couldn't give them too much road, eventually we had the legs to hold on and it feels so good to win a Six Day London."
Belgian duo Kenny De Ketele and Moreno De Pauw completed the final podium in third.
Watch: Ghent Six Day 2017 - Wiggins and Cavendish win
Katie Archibald successfully defended her London Six Day crown with a strong performance, although the 23-year-old Scot said that there was some room for improvement in her Madison performance where she partnered Lydia Boylan. Archibald had originally been due to partner with Elinor Barker, but Barker withdrew due to illness.
"The Madison was screw up after screw up on my part. I had some really horrible moments and I could hear the commentator in my head – I'm glad for the Madison experience but there's a lot to build on," commented Archibald.
Archibald thanked the London crowd for the enthusiastic support: "The crowd helps. It's amazing. You get a taste for it when you go to someone else's home track and you can tell instantly when a home rider goes on the attack."
London Six Day 2017 final general classification (men)
1. Cameron Meyer & Callum Scotson (Aus) 353 points
2. Mark Cavendish & Peter Kennaugh (GBr) 459 points (-1 lap)
3. Kenny De Ketele & Moreno De Pauw (Bel) 421 points (-1 lap)
4. Yoeri Havik & Roy Pieters (Ned) 382 points (-2 laps)
5. Niklas Larsen & Casper Von Folsach (Den) 416 points (-4 laps)
6. Alberto Torres & Sebastien Mora Vedri (Esp) 346 points (-4 laps)
7. Casper Pedersen & Marc Hester (Den) 323 points (-4 laps)
8. Felix English & Mark Downey (Irl) 354 points (-5 laps)
9. Morgan Kneisky & Benjamin Thomas (Fra) 309 points (-5 laps)
10. Ollie Wood & Mark Stewart (GBr) 325 points (-8 laps)
11. Steven Burke & Chris Latham (GBr) 299 points (-10 laps)
12. Nick Stopler & Melvin Van Zijl (Ned) 118 points (-13 laps)
13. Wojciech Pszczolarski And Adrian Teklinski (Pol) 130 points (-18 laps)
14. Sebastian Schmiedel & Maximilian Beyer (Ger) 108 points (-18 laps)
London Six Day 2017 final general classification (women)
1. Katie Archibald 310 points
2. Neah Evans 255 points
3. Emily Nelson 228 points
4. Eleanor Dickinson 218 points
5. Allison Beveridge 202 points
6. Lydia Boylan 195 points
7. Jasmin Duehring 190 points
8. Kirsten Wild 185 points
9. Maria Giulia Confalonieri 177 points
10. Elinor Barker 130 points
Thank you for reading 10 articles this month* Join now for unlimited access
Enjoy your first month for just £1 / $1 / €1
*Read 5 free articles per month without a subscription
Join now for unlimited access
Try first month for just £1 / $1 / €1