Mark Cavendish re-signs with Dimension Data for 2019
Cavendish extends with his current team after two tough recent seasons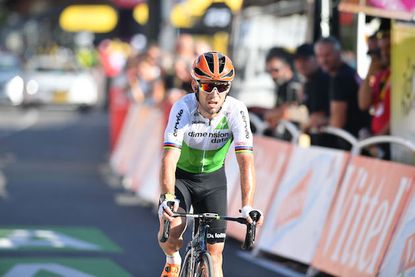 (Image credit: Yuzuru Sunada)
Mark Cavendish, after a "difficult" season, has re-signed with Dimension Data for the 2019.
The super sprinter from the Isle of Man suffered in the Tour de France without a win and ended his 2018 season soon after the RideLondon-Surrey Classic in July. He discovered he had the Epstein-Barr virus.
"It's no secret that both 2017 and 2018 have been very difficult years for me physically due to injury and illness," 33-year-old Cavendish said.
"The physical fatigue suffered as a result of the Epstein-Barr is terrible but the most difficult part was the impact on my job which is my life and passion; not being able to do that is very difficult to handle and it takes a mental toll on you.
"It seems that I've always made a career out of comebacks and I'm sure that 2019 is going to be no different after the couple of tough years with illness. I know that I'm on the right track to come back and dominate in the sport again."
The announcement ends speculation that Cavendish would join another team. He had been linked to Bahrain-Merida with sponsor McLaren.
In 2019, his goal will be adding to his 30 Tour wins and trying to reach the all-time Eddy Merckx record of 34. But also helping the South African team's charity Qhubeka.
"Growing up all I ever wanted was to ride my bike – I loved riding my bike - and so not being able to do it and not being able to succeed, which is the only thing that I know, well it's incredible as you realise then just how tough it is when things don't go right," Cavendish said.
"In my 12 years as a professional with the teams that I've been in I'm proud to say that I've made some history within the sport and one thing that matters to me is leaving a legacy, and not just on the sporting side.
"The Tour de France record is massively important to me but equally is what we can give back by using the status we have within the growth of cycling, it's hugely significant."
Qhubeka delivers bicycles to needy Africans in return for deeds such as collecting used plastic bottles or planting trees.
"Mark has made a significant impact in this team since joining us in 2016 -- who'll ever forget his four Tour de France stage wins to go with the yellow jersey as well as the green -- and I am thrilled that he has agreed to continue with us and take on additional leadership responsibilities," said team boss Doug Ryder.
Performance Manager Rolf Aldag added: "Mark needs to fight back from a difficult year, with crashes and health issues, but we believe that he can do this and return to old strength, if he is fully recovered.
"He has an outstanding palmarès already and we will support him to add some more great results. But Mark also gets more and more involved with our technology partners, helping them to make the best products. He shows some great skills in this realm and will continue to develop those relationships, so all our riders can benefit from his input and experience."
Cavendish began training on his bike again recently. Last weekend, he attended the George Hincapie Gran Fondo in the United States.
With the new deal, he can focus firmly on 2019. It involves adjusting to new equipment, like the team's BMC bikes. They already announced that they will switch from long-time sponsor Cervélo.
"The Tour de France record, it's no secret that it's the one goal that I have left in cycling," Cavendish added.
"After winning 30 stages in my career another four doesn't seem that much but I've always been the first one to say that winning one stage of the Tour de France is something that makes a rider's career, so I know how difficult it could be to win another four; but I'm never going to stop trying.
"I firmly believe that I will get it and I believe with the best people around me that I have the best chance of getting it. The day that I don't believe I can challenge to get that record is the day that I probably stop riding my bike."
Thank you for reading 20 articles this month* Join now for unlimited access
Enjoy your first month for just £1 / $1 / €1
*Read 5 free articles per month without a subscription
Join now for unlimited access
Try first month for just £1 / $1 / €1