'He had the motor, but I couldn't see him winning a Grand Tour': Remembering Geraint Thomas's Barloworld years
The 2018 Tour de France winner showed promise in his early days, but no one expected him to contend for a Grand Tour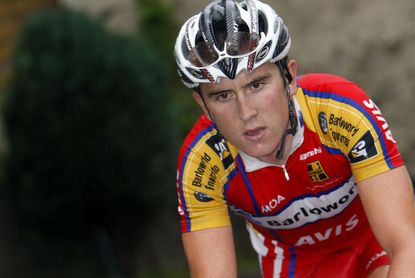 (Image credit: Yuzuru SUNADA)
Geraint Thomas's first professional years were with Barloworld – the team saw he had a motor, but never guessed a Grand Tour win was possible.
The Welshman, winner of the 2018 Tour de France, rode with Barloworld for three seasons, from 2007 to 2009, before joining Team Sky.
"He was the youngest rider when we took him to the 2007 Tour. And he arrived second last. We didn't know then he was going to win the Tour," former team manager Claudio Corti told Cycling Weekly.
>>> How Geraint Thomas won the 2018 Tour de France
"He was a big passista, a strong motor, but no one was considering him for the climbs. It was only later when you had Bradley Wiggins transform and win the Tour that you thought something was possible. He was a big boy back then, how could he win the Tour?"
The Italian/South African team registered in Great Britain and provided the road racing needed for his track programme and a launch pad to Classics and eventually to Grand Tour success. Via the federation, Corti signed several Brits including Ben Swift, Steve Cummings and Thomas. And he also had Chris Froome, then racing as a Kenyan.
"In the 2008 Giro d'Italia, Geraint finished the last day 12th in the time trial. That showed his motor and his ability to recover in a Grand Tour. He wanted to give it a go and he did well. There was something there. That was a sign," added the Italian manager.
"His big thing in those years was always preparing for the track. Making sacrifices for him was no big deal.
"He was always doing his training, always wanting to test the different equipment, and if I needed a rider for a race, I could call him up and he'd be happy to do it. He was easy to get along with."
The 2009 Tirreno-Adriatico remains in Corti's head. Thomas crashed in the time trial and stayed in the hospital afterwards. Corti was there with his wife.
"We waited with him and didn't want to leave him alone. He needed tests and stuff. I remember because my wife was there, one of the few times she was along and we just sat there alongside Geraint," Corti said.
"No one knew, but the potential there. The same with Froome, but I'm happy they went on to win the Tour."
South African Robert Hunter won his only Tour de France stage in the 2007 edition that started from London thanks to Thomas's help.
"He was good, had a huge amount of talent and a motor, but he was about 10 kilograms heavier then," Hunter said.
"He was strong on the flats, helping me out in the sprints, but no where near to where he should have been climbing if you think he'd go on and win the Tour.
"I remember in one Tour stage, he was the first guy dropped and sucked it up until the last climb of the day, joining the gruppetto right at the base of the last climb.
"Most people would have called it a day after riding 99 per cent on your own, but that showed a lot of character right there especially as a 21-year-old. That showed me his character."
Thank you for reading 20 articles this month* Join now for unlimited access
Enjoy your first month for just £1 / $1 / €1
*Read 5 free articles per month without a subscription
Join now for unlimited access
Try first month for just £1 / $1 / €1