'It's not a pretty picture': Tyler Hamilton says doping still prevalent in pro and amateur cycling
Former US Postal rider and convicted doper Tyler Hamilton also said 'abused the crap' out of corticosteroid Kenacort during his career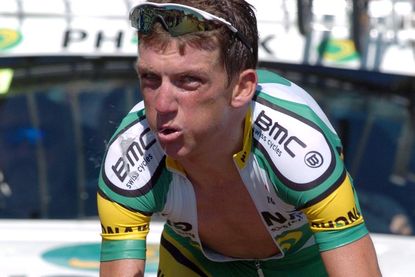 (Image credit: Watson)
Former American professional cyclist Tyler Hamilton has admitted to "abusing" triamcinolone during his career, saying it was effective in helping him lose weight for the Grand Tours.
Triamcinolone (Kenacort) is the same corticosteroid controversially administered under a Therapeutic Use Exemption (TUE) for Sir Bradley Wiggins to treat allergies before the 2012 Tour de France and 2013 Giro d'Italia. It was revealed that Wiggins had legally used the substance after the Fancy Bears hack of the World Anti-Doping Agency last year.
Hamilton, now 46-years-old, is the only American to win one of cycling's Monuments (Liège–Bastogne–Liège in 2003) and stages in all three of cycling's Grand Tours
However, he failed doping tests in 2004 and 2009 and subsequently confessed to cheating throughout his career during a federal grand jury testimony in 2010.
On May 20, 2011 he confessed to his cheating in an email to family and friends, and voluntarily returned his 2004 Olympics time trial gold medal to the United States Anti-Doping Agency.
Hamilton, an integral part in guiding Lance Armstrong to his first three Tour de France wins, said he was unaware of the Wiggins case, but is familiar with the banned substance.
At the Sport Resolutions conference at Grange St. Paul's hotel in London last week, Hamilton told the Press Association Sport that he "abused the crap out of" Kenacort, a brand of triamcinolone.
"It helped you 'lean out' for the Grand Tours and it was very effective. Look at the pictures - I weighed 30 pounds less than I do now. Not healthy," Hamilton said.
A year after admitting to doping, Hamilton revealed all the details of his cheating during his racing career in a book he co-authored, The Secret Race: Inside the Hidden World of the Tour de France: Doping, Cover-ups, and Winning at All Costs.
Coincidentally, Hamilton's comments came the day two Italians riding for Bardiani CSF, Nicola Ruffoni and Stefano Pirazzi, were reported to have tested positive for growth hormone in an out of competition test earlier this year. They were removed from the team's start list at the 100th Giro d'Italia. Ruffoni later provided an explanation for his positive test, though both riders are still waiting for results from tests of their B samples.
"The testing is better now, and they're doing more of it, but there's still doping in cycling," Hamilton said, but "we're still catching cheats and there are quite a few under the radar. And doping is in amateur cycling now, the under-23s and masters - it's not a pretty picture."
Still, Hamilton suggests it's better to be a rider in today's pro peloton than a decade ago, "because I believe you can compete clean now."
Thank you for reading 10 articles this month* Join now for unlimited access
Enjoy your first month for just £1 / $1 / €1
*Read 5 free articles per month without a subscription
Join now for unlimited access
Try first month for just £1 / $1 / €1