Armitstead: No 'grudge match' with Cooke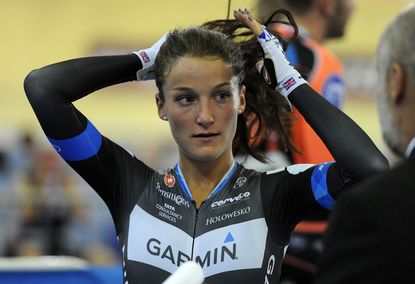 London 2012 Olympic Games road race hopeful Lizzie Armitstead has said that there will be no 'grudge match' between herself and defending Olympic champion Nicole Cooke.
Armitstead told the Yorkshire Evening Post that she had spoken with British team-mate Cooke after accusing her of "riding for herself" at the 2011 road race world championships and that she had never seen Cooke "work for a team-mate".
Armitstead made the comments during an interview with Cycle Sport magazine in November, and the quotes were quickly picked up by the mainstream media.
"We've had a conversation and it's behind us," Armitstead told the Yorkshire Evening Post.
"I'm sure the media would love us to have a grudge match all the way until the Games but it's just not the way it is."
Armitstead said that she will not be aiming to repeat Cooke's 2008 feat of winning both the Olympic Games and world championship road races.
"The world championships are not my main focus to be honest because they are in Holland and they finish on the top of a very steep climb, which suits Emma Pooley perfectly," Armitstead said.
"I want to be the leader at the Olympics on the London course because I believe it is perfectly suited to me and I think the Worlds course is perfectly suited to Emma, so without a doubt I'll be working for Emma there."
Armitstead spoke during a visit to her old primary school in her hometown of Otley, where she challenged pupils to a game on Scalextric's London 2012 track cycling set.
Related links
Infighting threatens British women's Olympic hopes
Thank you for reading 20 articles this month* Join now for unlimited access
Enjoy your first month for just £1 / $1 / €1
*Read 5 free articles per month without a subscription
Join now for unlimited access
Try first month for just £1 / $1 / €1