Cavendish finds solace in commitment of his team mates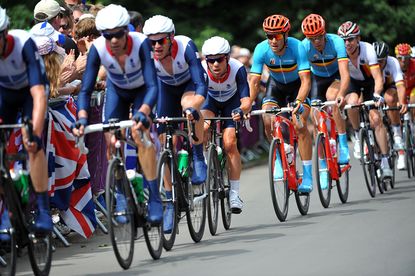 Mark Cavendish never reacts well when he doesn't win. His hatred of losing is part of what drives him to success, but after missing out on Olympic gold today he consoled himself with the efforts of his four team mates.
"The guys are sat there, in their skinsuits, they are spent. They have got nothing left in the tank," he said when speaking to BBC Radio Five Live. "It's incredible to see that to see what they gave for the cause."
Cavendish was the only British rider to finish in the second group that finished just 40 seconds behind winner Alexandre Vinokourov. Ian Stannard sat up in the final metres losing just ten seconds, Bradley Wiggins rolled in one minute 17 seconds down while David Millar and Chris Froome were nine and twelve minutes back.
Each of them had ridden themselves in to the ground and reached their limit before the finish. "We rode the exact race we wanted to ride." Cavendish said. "We wanted to control it and we wanted the group at a minute. We expected teams to come and chase at the end with us. We controlled it with four guys for 250 km and we couldn't do more. We are human beings.
"There was a group of 22 who got away and we couldn't pull them back. The four guys who ran all day couldn't do it. The Germans came a bit too late and the other teams seemed to be more content that they wouldn't win as long as we didn't win. That's kind of how it goes."
When the winning move went on the final climb of Box Hill Great Britain found themselves isolated in the chase. Germany had their man Greipel back in the bunch with the British team, and Matt Goss was there for the Australians. Germany did some work, but Australia did none, seemingly happy that Stuart O'Grady (who'd been in the break all day) was in there.
"It seems like most teams are happy not to win as long as we don't win," Cavendish told BBC One. "It's the story of our lives in cycling. It shows what a strong nation we are. We've got to take the positives from that and take it as a compliment."
"It's bitterly disappointing. There's 70 guys in our group at the finish, I don't understand why there's [only] three guys riding. It doesn't make sense."
London 2012: Live text coverage of cycling events
July 28: Men's road race
July 29: Women's road race
London 2012: Latest news
Tickets for Box Hill? You may need another...
Bradley Wiggins' UKSI Olympic bike
Hoy helicoptered in for opening ceremony
Box Hill closed after local riders give security the slip
Boonen and Gilbert train on Box Hill Olympic circuit
Goss fresh for Olympic Games assault
Trott on top: London 2012
Hoy to be GB flag bearer at London 2012 opening ceremony
Millar: I think about Olympics all the time
Cavendish recognises advantage in missed Tour chances ahead of Olympics
Kenny not Hoy selected for London 2012 sprint
German and French Olympic teams sneak in fourth sprinter
Cavendish: GB's best bet for Olympic gold
London 2012: Team info
Men's road race start list
Women's road race start list
Men's time trial start list
Women's time trial start list
Team GB rider profiles
Great Britain track team confirmed
Bronzini leads Italian Olympic cycling team
British Olympic men's road race team announced
Armitstead and Cooke lead GB women's road cycling team
London 2012: Event guides
Olympic Games women's road race: Who will win?
Olympic Games men's road race: Who will win?
Download detailed Olympic road race route map
London 2012 cycling schedule
London 2012: Reports
Men's road race: Vinokourov wins as Cavendish misses out
London 2012: Photos
Team GB road race training on Box Hill (July 26)
London 2012: Podcasts
Cycling Weekly podcasts on Soundcloud
London 2012: TV schedule
London 2012 BBC TV cycling coverage schedule
London 2012 Eurosport cycling coverage schedule
Thank you for reading 20 articles this month* Join now for unlimited access
Enjoy your first month for just £1 / $1 / €1
*Read 5 free articles per month without a subscription
Join now for unlimited access
Try first month for just £1 / $1 / €1