GB Team Sprinters: 'We surprised ourselves with gold'
Great Britain trio set their second Olympic Record of the night to beat New Zealand in the final and take the gold medal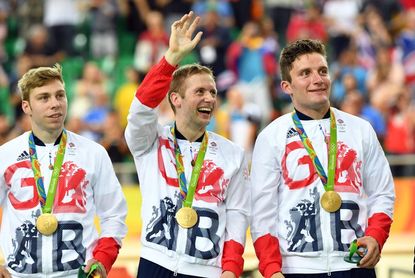 (Image credit: Watson)
Philip Hindes, Jason Kenny and Callum Skinner took the first track gold of the Rio 2016 Olympic Games, and twice set a new Olympic Record on the way to victory.
Despite being defending champions, the British trio were seen as outsiders for the event after lacklustre performances since London 2012.
"All of it was a surprise today, genuinely. We surpassed ourselves," said Jason Kenny about a win that delivered his fourth Olympic gold medal, and saw off world champions New Zealand in the process.
"We went into the finals with nothing to lose," he continued. "We left it on the track, and unbelievably it was enough to win the gold."
With a question mark over whether the team would perform given their showing in the years since the last Games, Kenny added: "We can't win the bloody worlds to save our lives, but we win the Olympics every time."
Read more from the Olympics
Chris Boardman: Great Britain's rivals must be thinking 'oh no'

Phil Hindes: They had to put a bigger gear on me to slow me down

Great Britain women's team pursuiters set new world record in Rio Olympics qualifying

Callum Skinner, who replaced Sir Chris Hoy in the line-up since London 2012, was under a lot of pressure to perform at the Olympics. This was especially the case as his times at the worlds were way down on his teammates.
When it mattered, though, he delivered and took Britain to victory.
"We just put everything on the final," Skinner said of their head-to-head with New Zealand. "After the world championships, we worked hard to bring it all together for the Games. We're very happy."
For Philip Hindes, the team came good when it mattered and the hard work has all paid off.
"Callum really stepped up," said Hindes. "Since the worlds we really pulled ourselves together. It's amazing to be able to step up again, to win a gold medal. We've all been working so hard."
New Zealand went into the event as favourites, but couldn't match Team GB in the run-off for the gold medal despite setting their own Olympic Record in between the two set by Kenny, Hindes and Skinner.
Sir Chris Hoy's Olympic memories
NZ's Edward Dawkins spoke of mixed emotions after the final: "Three were personal bests, one of them was an Olympic record. I'm gutted it's not gold, but it's what we had in the tank today."
Dawkins's teammate Sam Webster was also pleased with how his team did, but paid tribute to the British trio: "Couldn't be prouder [of his team's performance]. We had a great build-up, we set three personal bests, and we were beaten by a great team. Team GB were awesome, and they deserve to win."
Team GB's Kenny has the chance to add a fifth gold to his impressive career tally when he competes in the individual Track Sprint.
The early rounds start on Friday August 12, with the medals being decided on Sunday, August 14.
Thank you for reading 20 articles this month* Join now for unlimited access
Enjoy your first month for just £1 / $1 / €1
*Read 5 free articles per month without a subscription
Join now for unlimited access
Try first month for just £1 / $1 / €1