Peter Sagan trades his Olympic road race place for a shot at mountain bike gold
Peter Sagan gives up his place in the road race at the Olympic Games in exchange for selection to the mountain bike events at the end of the Games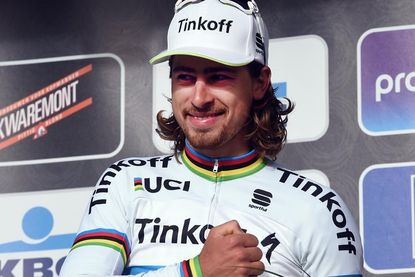 (Image credit: Graham Watson)
Peter Sagan will cross codes at the Olympic Games in August, trading his spot in the road race for a chance to win a medal in mountain biking.
In May it was reported that the Slovakian federation had requested a wildcard place be given to Sagan if some countries did not fill their allocations of places for the mountain biking, but now he has been selected outright for the event.
According to the Slovak Olympic Committee, Sagan offered his place in the road race in exchange for a ride in the MTB, with mountain biker Martin Haring taking his place in the mountainous road race.
>>> Peter Sagan may ride MTB at the Olympics after wildcard place is requested
Sagan decided in January that the Rio road race course was not to his liking, but would have probably been entered into it anyway, given his status as world champion.
"Everyone counted on the fact that Peter Sagan, as world champion, will start on the road," said Peter Privara, president of the Slovak Cycling Association.
"Peter, however, offered a seat to road cycling in exchange for a start in the MTB cross country. After finishing the Tour de France he has special training for four weeks. As we know, he will not only want to attend the Olympics, but to fight for the top positions."
>>> Peter Sagan walks to finish line on return to mountain biking due to crash (video)
Sagan, a junior MTB world champion, will now have significantly more time between the end of the Tour de France on July 24 and the mountain bike events on August 20/21 than he would have done had he entered the road race on August 7.
Haring's experience on the road is not extensive, with his best results coming with a stage win at the Sibiu Tour in 2012 and the king of the mountains title at the 2015 Tour of Cameroon.
Thank you for reading 20 articles this month* Join now for unlimited access
Enjoy your first month for just £1 / $1 / €1
*Read 5 free articles per month without a subscription
Join now for unlimited access
Try first month for just £1 / $1 / €1