Reade wins BMX Olympic test event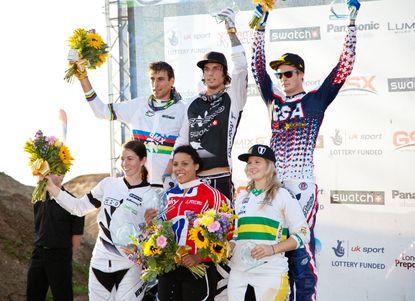 Britain's Shanaze Reade won the UCI BMX Supercross round held at the London 2012 BMX track on Saturday, a test event for the Olympic Games next year.
Cycling fans at the Olympic Park on Saturday saw the finals of the UCI BMX Supercross series held up today, thanks to something no amount of careful planning can control - the great British weather.
In scenes reminiscent of Wimbledon, officials had to cover the Olympic track in huge sheets of plastic to prevent it from becoming unrideable. Once rain showers eased the team had the test track back up and running in just half an hour or so, followed by a shortened practice and qualification heats session.
The six thousand spectators waiting patiently in the grandstand (or cowering under the huge 'Pringle' roof of the Velodrome) finally got something to cheer about when the first rounds of competition got underway in the late afternoon. Eight rider heats saw the fastest four racers progress to the next stages, and offered some exciting and spectacular racing.
Much to the crowds delight, British Olympic hopeful Shanaze Reade made steady progress to earn her place in the elite women's final. Shanaze consistently chose the outside lane 8 on the gate to stay clear of trouble, and she powered to a strong victory in the main event, proclaiming afterwards this race was "her personal career highlight." Hopes for a BMX gold at London 2012 will take a big boost from this result.
The men's racing was non-stop fast and furious with numerous favourites and previous World Champion's failing to make it through the ultra-competitive heats. In a thrilling high-speed final the lead switched and changed around both in the air and on the ground, before New Zealand's Mark Willers emerged victorious at the line.
The location, organisation and the atmosphere bode well for next year and, crucially, the future Olympic competitors themselves declared the event a success despite the weather's best efforts.
Crowds turned out in force to watch the event
Olympic gold medal prospect and women's winner Shanaze Reade
The start ramp
Shanaze Reade hits the front in the women's race
Get it wrong, and the London 2012 track will bite
Reade hits one of the jumps
Early rain affected the start of the event in contrast to the afternoon's clear skies
Mark Willers won the men's race for New Zealand
Men's and women's podiums: Mark Willers (top, middle) and Shanaze Reade (bottom, middle) the victors
Related links
World's best BMXers in London test event
Thank you for reading 5 articles this month* Join now for unlimited access
Enjoy your first month for just £1 / $1 / €1
*Read 5 free articles per month without a subscription
Join now for unlimited access
Try first month for just £1 / $1 / €1