Team GB continue to experiment with team sprint line-up ahead of Olympics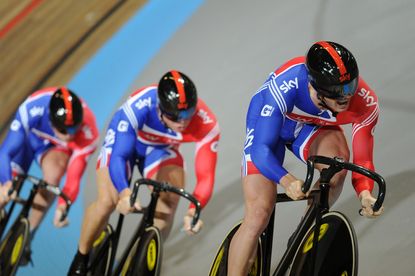 British team selectors are still experimenting with the line-up for the men's track team sprint, and will use Ross Edgar as 'man one' during the London round of the UCI Track World Cup over February 17-19 where he will join Sir Chris Hoy and Jason Kenny.
Since the retirement of long-term man one Jamie Staff from the British set-up in March 2010, selectors have tried various permutations of the three-man team sprint line-up with limited success.
The ideal 'man one' - the lead rider on the opening lap of the three-lap event - must have unrivalled explosive sprint power from the gun to rapidly get the whole team up to speed.
"Jamie Staff was such a very strong man one and when paired with Jason Kenny in man two and Chris Hoy in man three we had a team were we could honestly say each athlete was the very best in the world in that position," Great Britain sprint coach Iain Dyer told British Cycling.
After Staff's departure, Kenny moved into the man one position with Hoy in man two.
Kenny, Hoy and Matt Crampton finished a disappointing fifth in the 2011 European Championships after Kenny's wheel slipped. Edgar, Kenny and Jason Queally took part in the opening round of the 2011-12 World Cup in Kazakhstan in November and finished seventh.
Dyer concedes that although he thinks Kenny and Hoy are the best man two and three in the world, they fall short of "the very best" as man one and two.
Now Edgar will lead-out the British team sprint trio in London despite recent injury problems.
"It's our plan to roll Ross out at man one, Jason at man two and Chris at man three at London World Cup and see what that gives us," said Dyer.
"Unfortunately in the last few weeks Ross has been battling against an injury so we hope that he'll be on form for London but he might just come up a little short on time to rehabilitate the injury and progress his fitness once again."
The London round of the 2011-12 UCI Track World Cup is the last of four rounds, and is also the official test event for the London 2012 Olympic Games. It will be the first time that the London 2012 'Pringle' velodrome has been used in top-level competition.
Related links
Cycling Weekly's London 2012 Olympic Games news section
Team GB: London 2012 Olympic cyclists profiles
Cycling Weekly's guide to track racing
track star Staff announces retirement
Thank you for reading 20 articles this month* Join now for unlimited access
Enjoy your first month for just £1 / $1 / €1
*Read 5 free articles per month without a subscription
Join now for unlimited access
Try first month for just £1 / $1 / €1