Tickets for Box Hill? You may need another...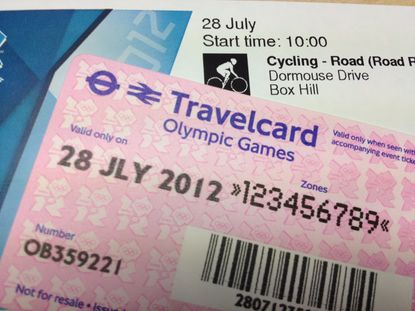 Box Hill pilgrims for this weekend's Olympic road races will need to buy an additional train ticket in addition to the Travelcard that came with their Games tickets, Cycling Weekly can reveal.
All London 2012 tickets for events in the capital came with a free one-day Travelcard, which is rather handy for those who will be watching the races finish on The Mall.
However, the Travelcard will take fans station as far from Ewell West and East - four stops away from their required destination of Box Hill & Westhumble . This information was not supplied with the tickets and accompanying documents.
Southern Railway confirmed to CW that a ticket for the final part of their journey will be required to complete the trip.
This map clearly shows the Travelcard area; Box Hill & Westhumble station is four stops away from Ewell West and East.
With large numbers of spectators heading to the climb expected to use the small nearby station, you would hope that ticket barriers and exits would be open to minimise the risk of overcrowding and congestion.
But then again, who is to say that National Rail's Revenue Protection Officers won't be out in force, particularly when there is likely to be many unsuspecting cycling enthusiasts without a ticket for their full journey?
Southern are running a special service for both Saturday and Sunday, with an increased number of trains stopping at Box Hill & Westhumble station. (See here for timetable information).
However, it should be noted that only fold-up bikes will be allowed onto the operator's services between London Victoria, Waterloo, Epsom, Dorking and Horsham on both days.
Related links
London 2012 Olympic Games: Cycling Weekly's coverage index
Olympic road races: Downloadable map and race schedule
Thank you for reading 20 articles this month* Join now for unlimited access
Enjoy your first month for just £1 / $1 / €1
*Read 5 free articles per month without a subscription
Join now for unlimited access
Try first month for just £1 / $1 / €1