Peloton reacts to sweltering temperatures of up to 48ºC at Tour Down Under
At least the stage finished by the sea so they could go for a post-race swim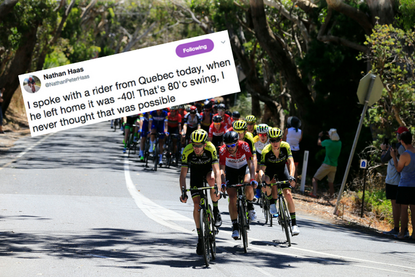 To say that it's been a tad hot at the Tour Down Under this week would be somewhat of an understatement, with race organisers having to shorten Thursday's stage three by 26km and bringing the start of stage four forward by an hour so the riders avoid the worse of the afternoon heat.
>>> Elia Viviani capitalises on Caleb Ewan's mistake to win Tour Down Under stage three
With even the Australian riders struggling with the heat in the middle of the southern hemisphere summer, it's no surprise that there were plenty of riders and teams posting on social media about their attempts to deal with the heat.
https://www.youtube.com/watch?v=z_adHEhqg8E
Riders were understandably reluctant to venture out from the shade and away from the ice boxes at the start of the stage.
Plenty of teams posted photos of the thermometers in their cars to show off the sweltering temperatures
But some of the riders' Garmins were showing even higher temperatures
Spare a thought for some of the journos who were cooped up in a stuffy press room
Team Sunweb had a clever way of keeping their riders cool (while Chris Hamilton won the award for Hashtag of the Day)
Tiago Machado didn't seem to mind the heat too much, launching a futile late attack
While Thomas De Gendt was back in the pack looking forward to freezing rain and driving crosswinds at Paris-Nice
Simon Clarke was among those who looked pretty drained at the finish
But at least the sea was close at hand for the rider to enjoy a quick dip to cool down
Unfortunately not all of the riders were able to enjoy a post-race swim, although race organisers made sure that a cooling fan was available for stage winner Elia Viviani.
Meanwhile happy birthday to Miles Scotson, who was given a very suitable type of cake by his team
And finally spare a thought for one Quebecois rider (who we assume to be FDJ's Antoine Duchesne), who has gone from -40ºC to +40ºC, while also having to ride a WorldTour bike race. Chapeau!
Thank you for reading 20 articles this month* Join now for unlimited access
Enjoy your first month for just £1 / $1 / €1
*Read 5 free articles per month without a subscription
Join now for unlimited access
Try first month for just £1 / $1 / €1