Tom Pidcock vs Ed Clancy: whose incredible bike handling was the best at the Tour Series? (videos)
Two very different techniques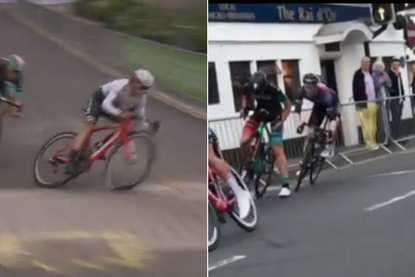 If you think of some of the world's best bike handlers then you probably think of the likes of Peter Sagan and Vincenzo Nibali, but some of Britain's finest home-grown talent has been on display in the last couple of weeks at the Tour Series.
The last two rounds of the series at Wembley Park and Salisbury saw some incredible bike handling with Tom Pidcock (Team Wiggins) and Ed Clancy (JLT Condor) at the heart of the action.
At Wembley Park on Tuesday, Pidcock was in a two-man break with Connor Swift (Madison-Genesis) but very nearly came to grief thanks to a speed bump before the final corner.
Coming in with plenty of speed, Pidcock went airborne through the corner, unclipping to regain his balance, before incredibly managing to get his feet back in the pedals to out-sprint Swift to take individual victory on the night.
Two days later in Salisbury and Pidcock was once again living on the edge as a Canyon-Eisberg rider crashed ahead of him in early stages of the final round of the series.
With riders slamming the brakes on in front of him, Pidcock once again unclipped to somehow skirt around the side of the crash.
Meanwhile Ed Clancy, who was sitting on Pidcock's wheel, employed a slightly different technique to get around the carnage - bashing into a Madison-Genesis rider to help keep himself upright before heading off in pursuit of Pidcock.
>>> Handling technique: How to corner on your road bike
His technique might have not been quite as slick, but the end result was certainly better for Clancy, with the track specialist out-sprinting his younger rival to take the individual victory on the night.
However the team victory on the night and in the men's Tour Series overall went to Canyon-Eisberg who edged out Madison-Genesis by just two points, while the women's Tour Series overall was won by Team Breeze despite Storey Racing taking victory on the night.
Thank you for reading 20 articles this month* Join now for unlimited access
Enjoy your first month for just £1 / $1 / €1
*Read 5 free articles per month without a subscription
Join now for unlimited access
Try first month for just £1 / $1 / €1