12 strange things from the 2015 Tour de France
It's a lot more than just bike racing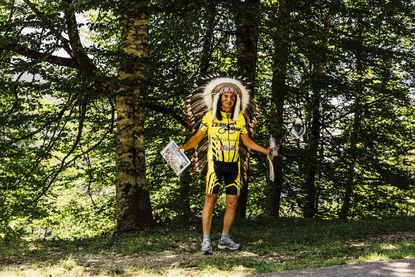 (Image credit: chris catchpole)
1. Giant-Alpecin's Simon Geschke had his shoes stolen...
2. These guys looked for optimum viewing position, as well a way to stay out of the wind. Hard to say if this is the ideal method.
3. There's a Didi impersonator out there somewhere, despite the fact real Didi is back and going strong. Surely some kind of copyright infringment.
4. When this postman went a bit crazy because the roads in Utrecht were closed.
https://www.youtube.com/watch?v=C3sdjHyVHOY
5. The time that someone left this big bin of bread outside in the rain.
6. The sad story of the cat stuck in the Astana car.
7. The high volume of polka-dot equidae
8. The fact that you can get a hair cut and a shave in the start village
9. Michael Rasmussen turned up. But it didn't seem anyone noticed.
10. Aerodynamics are no substitute for tradition.
11. When this protester did this in Paris.
12. This bidon chasing incident
https://www.youtube.com/watch?v=to6pM7wes34
What did we miss?
The best of the 2015 Tour de France
Thank you for reading 20 articles this month* Join now for unlimited access
Enjoy your first month for just £1 / $1 / €1
*Read 5 free articles per month without a subscription
Join now for unlimited access
Try first month for just £1 / $1 / €1