Bradley Wiggins and Chris Froome could spearhead Sky assault on 2014 Tour de France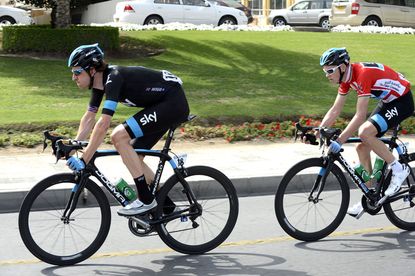 Bradley Wiggins and Chris Froome could front Sky's line-up for the 2014 Tour de France when the race starts in Yorkshire next July.
Speaking to the Guardian newspaper, Sky team principal David Brailsford stated that it would be 'a dream' for both of Britain's Tour de France winners to make the 2014 Tour team.
"It would be brilliant," Brailsford told the paper after Froome's Tour victory on Sunday.
"I think it's brilliant that we'll go to a Tour de France starting in our home country with the reigning champion. It's bonkers really, when you think about it."
The possibility of both riders taking part in the Tour as it starts in Britain would be a huge crowd pleaser, particularly after Wiggins was forced to sit out the 2013 Tour with a knee injury.
When asked about the two riders' interpersonal relationship, which has often been portrayed as frosty in the media, Brailsford commented: "Everyone goes on about it, can they be friends? I don't spend a nanosecond worrying about whether they get on or not". Froome admitted at the end of the Tour that he had not heard from Wiggins throughout the race.
Froome has openly stated that he is aiming for future wins at the Tour, whilst Wiggins has said that he may never compete for the overall honours in the race again.
Brailsford has a more pragmatic outlook on the chances of either rider in the race: "You stop at the end of the year, you draw a line and you look at next year, look at everything you've got, at the different races, and then you decide how best to deploy your resources to get the best results," he said.
"You all laughed when I told you we were going to win the Tour in five years. If I'd told you we would win it twice with two different riders you'd have pissed your pants."
Related links
Froome and Wiggins: the silence
Chris Froome wins Tour de France
Wiggins may never aim for Tour de France win again
Thank you for reading 5 articles this month* Join now for unlimited access
Enjoy your first month for just £1 / $1 / €1
*Read 5 free articles per month without a subscription
Join now for unlimited access
Try first month for just £1 / $1 / €1