Cote de Buttertubs Pass: 10 Greatest Tour Cycling Climbs in Yorkshire
For close to three kilometres you cross this stunning and barren land, although come July every inch of roadside will be five-deep with fans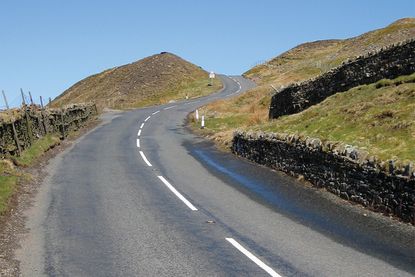 By Simon Warren
Stage one | 104km | Hawes | Rating: 6/10
Once you've negotiated your exit from Hawes, you start the climb on the gentle slopes heading into Simonstone, the road picking its way between the scattering of stone buildings ambling upwards, twisting a little as it goes.
Once free of the last building the gradient begins to tip skyward as you start the toughest section of the climb, framed by drystone walls and maxing out at 17% before a false summit.
Passing between high, grassy banks on other side of the road the complexion of the ascent changes and once over the cattle grid you're on open and exposed land. Set in achingly beautiful surroundings the road with neither shelter nor protection heads steadily over the moor, rolling, twisting, and climbing gradually upwards.
For close to three kilometres you cross this stunning and barren land, although come July 6 every inch of roadside will likely be five-deep with fans, thus denying the pros these epic vistas. Oh well, never mind.
Factfile
Where Head north from Hawes on Brunt Acres road across the river Ure. Turn left onto Bellow Hill then next right to start the climb towards High Shaw.
Grid ref SD 868 956 (OS98)
Length 5120m
Height gain 269m
Approx climb time 18mins
Thank you for reading 20 articles this month* Join now for unlimited access
Enjoy your first month for just £1 / $1 / €1
*Read 5 free articles per month without a subscription
Join now for unlimited access
Try first month for just £1 / $1 / €1