Eddy Merckx could boycott Tour de France tribute to himself after dispute with race organisers
Five-time Tour winner might not be at 2019 Grand Départ after dispute with ASO over Tour of Oman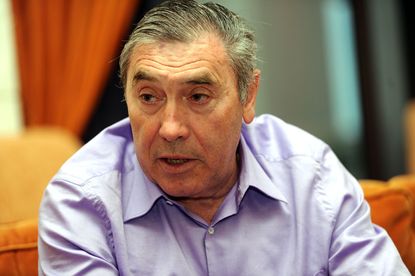 (Image credit: Graham Watson)
Eddy Merckx might not be present at the Grand Départ of the 2019 Tour de France after voicing his displeasure with race organisers ASO.
The 2019 Tour will depart from Brussels as a tribute to Merckx on the 50th anniversary of his first Tour triumph, but the five-time yellow jersey winner says that he is considering not turning up to the event following a dispute ASO over the future of the Tour of Oman, which he helps to organise.
"I am disappointed in ASO. Very disappointed," Merckx told Belgian newspaper Het Laaste Nieuws. "They think that I will be present at the Grand Départ in Brussels in 2019. But at the moment I am beginning to doubt that."
The exact nature of the dispute between Merckx and ASO is not entirely clear, but appears to stem from the organisation of the 2018 Tour of Oman. Eddy Merckx and business partner Dirk De Pauw helped to set up the race in 2010, but Merckx will no longer be a part of the organisation following the dispute between ASO and local organisers.
Watch: Tour de France 2018 route guide
Merckx insists that the race will go ahead without him in 2018, and will not go the same way as the Tour of Qatar, which he and De Pauw also helped to run and was organised by ASO.
The 2017 Tour of Qatar was cancelled just months after the Gulf state had held the World Championships. The race had taken place every year since 2002, but disappeared this year, together with the Ladies Tour of Qatar, due to "difficulty attracting sponsor financial support".
Speaking in January, Mohamed Al Kuwari, the new president of the Qatar Cycling and Triathlon Federation which helped to organise the Tour of Qatar, insisted that the race would return in 2018.
The race is not on the UCI calendar for next season, but Merckx does not rule out a future return, saying that he "would like to make an effort" to see the race restart in the future.
Thank you for reading 20 articles this month* Join now for unlimited access
Enjoy your first month for just £1 / $1 / €1
*Read 5 free articles per month without a subscription
Join now for unlimited access
Try first month for just £1 / $1 / €1