Five Tour de France fan parks in UK during 2014 race
Official Tour de France spectator fan parks will be created in Harrogate, Green Park, Olympic Park, Trafalgar Square and Canary Wharf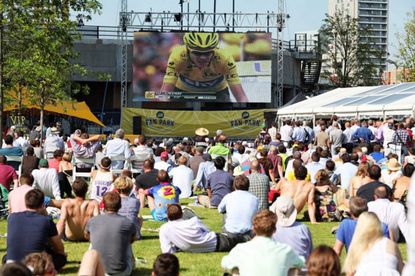 (Image credit: ASO)
After the success of last year's official Tour de France 'fan park' in London's Canary Wharf, race organiser ASO has extended the scheme to five locations in Britain during the 2014 Tour: Harrogate and four locations in London - Green Park, Olympic Park, Trafalgar Square and Canary Wharf.
As Yorkshire hosts the Grand Depart and opening stages of the race, fans in the capital can still feel involved - and ASO reports that 30,000 took advantage of last year's park to watch the closing stage of the race.
The idea is that Tour fans can join each other in the fan parks to recreate the atmosphere of Le Tour, watching the race on a big screen accompanied by Tour-themed exhibitions, activities, French food and official merchandise stands.
Naturally enough, stage one finish town Harrogate hosts the first four days of the Fan Park experience from July 3-6 as the riders race through Yorkshire and south through England.
London plays host in three venues over July 5-7 at Green Park, Olympic Park and Trafalgar Square, with Canary Wharf once again hosting a park for the final stages of the race including the Paris finale on July 27.
Cycling Weekly's Nick Bull visited the 2013 Fan Park, and you can read his report on Cycling Weekly's day at the Tour de France Fan Park.
Tour de France official Fan Parks programme
West Park Stray, Harrogate: July 3, 4, 5 and 6
Green Park, London: July 4 (evening), 5, 6 and 7
International Quarter, Olympic Park, London: July 5, 6, 7
Trafalgar Square, London: July 5, 6, 7
Canary Wharf, London: July 24, 25, 26 and 27
Thank you for reading 5 articles this month* Join now for unlimited access
Enjoy your first month for just £1 / $1 / €1
*Read 5 free articles per month without a subscription
Join now for unlimited access
Try first month for just £1 / $1 / €1