Geraint Thomas: Sky's next Grand Tour leader?
Geraint Thomas is supporting Richie Porte at the Tour de France, but hoping for a chance to lead a team himself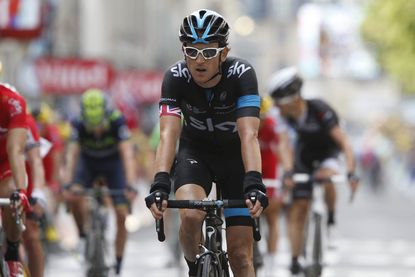 (Image credit: Graham Watson)
Geraint Thomas led Great Britain around the track to two Olympic gold medals and showed last week in the Tour de France that he is pushing for something similar for Sky team-mate Richie Porte. Just as Porte did when working for Bradley Wiggins and Chris Froome, Thomas appears to be paving his own path towards Tour fame.
"If I was the leader and was in another team, I'd be around there, if not a bit better," said Thomas, who sits 13th overall. "It's not that I think about, though. It's all about the team. It's all about Richie and then, I will see how far I can go. It's a good learning experience in a way and it's kind of new ground for myself. That's the exciting thing."
The 28-year-old Welshman joined forces with Vasil Kiryienka, David Lopez and Mikel Nieve in the last week to protect Sky's new leader in stage finals. Porte took charge after Froome abandoned in the cobbled stage to Arenberg. There's the feeling, though, that Thomas could one day take the reins of the Sky team.
It'd be ideal for some fans. Thomas grew up in the GB system, spent years developing into a classics rider in Sky's colours and gradually shifted to general classification riding. Sky gave Thomas his chance this March at the Paris-Nice stage race, where he led the overall for two days before abandoning due to a crash.
"I don't know," Sky's boss, David Brailsford responded when asked when fans can see Thomas leading the team in the Tour de France.
"It's early to say, but the next step is what he did in Paris-Nice this year. He'd been second or challenging to the win had he not crashed. He proved his worth there. That will be the next step for him logically, focusing on week-long stage races and really trying to push to get one of those under his belt and keep progressing in that sense – a bit like Richie did."
Richie Porte, 29 from Australia, started racing in Sky's black colours in 2012. Over the last two years, he helped Sky win the Tour de France with Bradley Wiggins and Chris Froome. He had his chance along the way to take control and win, as he did in last year's Paris-Nice.
Froome was meant to lead Sky through the 2014 Tour but that responsibility fell on Porte's shoulders when Froome abandoned. Brailsford explained that Thomas could become a similar plan B or plan A – or plan 'G' – already in 2015.
"Hopefully," Brailsford said. "We'd like to see to see that, but you have to focus on the here and now and let it develop, and keep taking it step by step."
The Tour de France continues this afternoon with a stage through the country's southeast to Saint-Étienne. Brailsford explained that Thomas ought to ride well in the coming mountain stages, but that one should consider all the work he has performed for Froome and now Porte.
"You have to take that into consideration," added Brailsford. "But he's improving all the time. Step by step, we are going in the right direction. It's exciting for him."
"You are grovelling for sure, hurting a lot, but to hang around and see the top GC guys around you…" said Thomas. "That gives you that buzz and extra motivation to see how far you can go."
Thank you for reading 20 articles this month* Join now for unlimited access
Enjoy your first month for just £1 / $1 / €1
*Read 5 free articles per month without a subscription
Join now for unlimited access
Try first month for just £1 / $1 / €1