McEwen's Tour de France in doubt after injury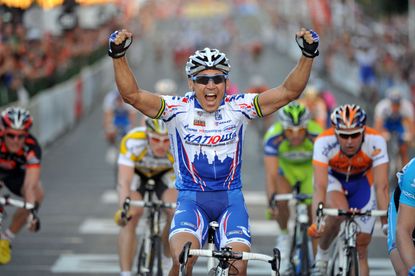 Robbie McEwen's participation in the 2009 Tour de France has been thrown into doubt today after the Australian sprint star suffered deep cuts to his leg during the Tour of Belgium.
McEwen clipped a road sign, causing a deep cut to the patella ligament on his left knee. The Katusha rider is currently undergoing surgery to try and mend the wound.
Representatives from his Katusha team were tonight expressing doubt that McEwen would recover in time to ride in the Tour de France, which is just five weeks away.
McEwen has won the Tour's green sprinter's jersey on three occasions. Although coming to the end of a long, and very successful career, McEwen is still capable of producing a blistering sprint - as he proved by winning this year's Down Under Classic.
RELATED LINK
Robbie McEwen: My 10 best wins
Thank you for reading 5 articles this month* Join now for unlimited access
Enjoy your first month for just £1 / $1 / €1
*Read 5 free articles per month without a subscription
Join now for unlimited access
Try first month for just £1 / $1 / €1