Portsmouth ditches 2019 Tour de France Grand Départ plans
Future bids may also be derailed by competition from elsewhere in the country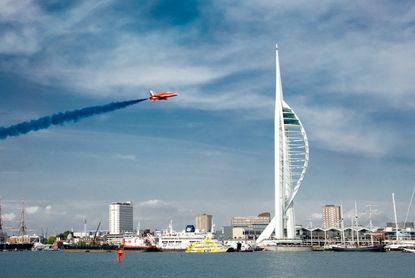 Portsmouth City Council (PCC) has admitted defeat in its ambition to bring the 2019 Tour de France Grand Départ to the south coast — and faces competition from at least three other UK regions to host the race in the future.
Jonny Clay, British Cycling's cycle sport and membership director, told Cycling Weekly in October that it was "illogical" and "impossible" for Portsmouth to stage the Tour in the same year that the UCI Road World Championships are being held in Yorkshire.
PCC, which still requires an estimated £2m from the government to even launch a bid, is now aiming to welcome the Grande Boucle some time before 2025.
"To secure 2019 would have been going some but that was the aspiration," Donna Jones, PCC's leader, told CW.
"But just because we aren't going to have it in 2019, it doesn't mean we won't have it."
A bid from Portsmouth would be a joint one with its twin city, Caen, in France. Portsmouth would host two days and Caen one.
>>> Huge roadside support a major factor in securing 2019 World Championships for Yorkshire
Jones added: "We are still hoping to do that but it was always going to be between 2019 and 2025; you build a bid that could work any time in that period.
"We are in dialogue with Tour organisers ASO and it is healthy and ongoing."
Cycling Weekly's Bikes of the Year
Best Aero Bike of the Year

Best Endurance Bike of the Year

Best Value Bike of the Year

Bike of the Year 2017: the Best Road Bikes Reviewed

British Cycling met with Portsmouth representatives on November 9 and has pledged to support PCC, but Clay says that he knows of "four areas in Britain that are very interested" in hosting a future Grand Départ.
The national governing body would prefer the Tour de France to return to the UK in either 2021 or 2022, as they are outside Olympic years and would take place within the organisation's time frame for hosting a major cycling event every three to four years.
"We are here to support Portsmouth," Clay said. "If Portsmouth want it, hopefully they're in a strong position.
"We definitely have a serious interest in having the Grand Départ back here in 2021 or 2022."
Thank you for reading 20 articles this month* Join now for unlimited access
Enjoy your first month for just £1 / $1 / €1
*Read 5 free articles per month without a subscription
Join now for unlimited access
Try first month for just £1 / $1 / €1