British Cycling says it would be 'impossible' and 'illogical' for Portsmouth to host the Tour de France in 2019
The governing body scuppered the south coast city's plans in light of Yorkshire being awarded the World Championships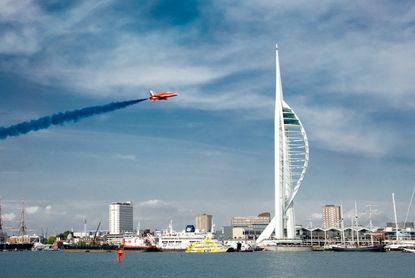 One of British Cycling's directors has said that it would be "impossible" and "illogical" for Portsmouth to host the Tour de France Grand Départ in 2019, as a result of Yorkshire's staging of the Road World Championships.
The Hampshire city's council has been putting together plans to bid to host the Tour in 2019 and earlier this month wrote to the government outlining its plans and asking for £2m to fund the bid.
But Jonny Clay, BC's cycle sport and membership director, said that BC wouldn't back a "major event"
taking place in the same year, instead supporting major cycling events every "two-to-three years", thus rendering support for Portsmouth's bid null.
>>> Huge roadside support a major factor in securing 2019 World Championships for Yorkshire
"The Grand Départ is certainly something we'd love to see return to Great Britain but 2019 probably seems illogical now, given the amount of funding and essential resources these events require from the government and UK Sport. It would limit the possibilities, in fact make it impossible for 2019," he told Cycling Weekly.
"From our side it would be a no strategically as it doesn't make sense." Clay also casts doubt on the government's willingness to pay for another major cycling event in the same year.
"I would imagine that the support that is required financially would also be a no," he said. Clay also confirmed that Portsmouth was "just one of a few" inquiries BC have received in relation to UK cities wanting to host major international cycling events.
Read more
Shane Sutton says British Cycling's outgoing CEO will be 'hard to replace'

British Cycling confirms CEO Ian Drake to step down

British Cycling looking for a new performance director ahead of 2020 Olympics

Female membership of British Cycling reaches an all-time high

Portsmouth hosted the Tour in 1994, when stage five of the race finished there. The city council first expressed its desire to have the race back in 2015, when it said it was interested in bidding to hold the Grand Départ in 2018.
But it later decided it would be better to bid to host the race in 2019 to coincide with the anniversary of the D-Day landings.
Members of the council and two local MPs, Flick Drummond and Penny Mordaunt, met with John Whittingdale, then culture secretary, before the Brexit vote in June, in an attempt to secure funding for a bid.
>>> Tour de France organiser moves into UK sportive market with purchase of Human Race
CW understands discussions with Whitehall are ongoing. However, the council is yet to strike up a formal dialogue with Tour de France organiser ASO and Tour director Christian Prudhomme has previously said he wants to see "passion" from the city in any bid.
Portsmouth City Council declined to comment. The Department for Culture Media and Sport did not respond to a request for comment.
Thank you for reading 5 articles this month* Join now for unlimited access
Enjoy your first month for just £1 / $1 / €1
*Read 5 free articles per month without a subscription
Join now for unlimited access
Try first month for just £1 / $1 / €1