Tour de France organiser moves into UK sportive market with purchase of Human Race
Human Race chief executive Nick Rusling speaks exclusively to Cycling Weekly about what the acquisition means for his company and their new owners ASO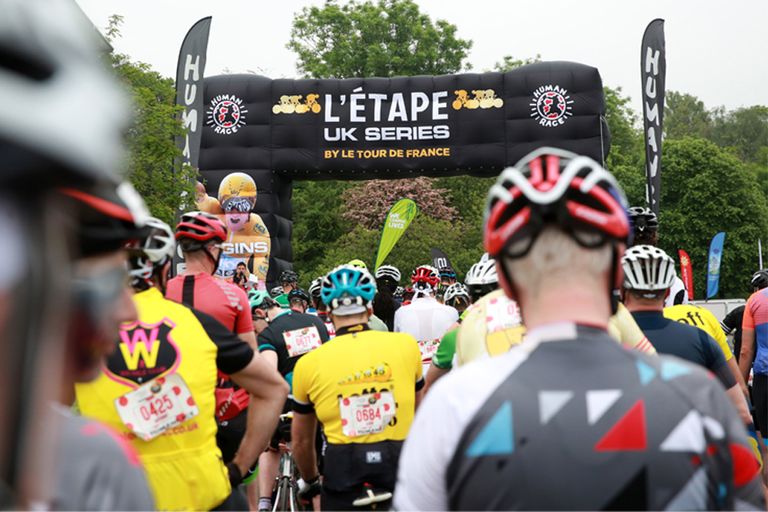 Building on an existing partnership that already delivers three of Britain's biggest sportives, Tour de France organiser Amaury Sports Organisation (ASO) has completed the purchase of Human Race Events.
The two companies have already worked together for a number of years on the Tour de Yorkshire Ride, L'Étape London by the Tour de France and Dragon Ride L'Étape Wales.
Speaking to Cycling Weekly in the days before the announcement of the buy out, Human Race CEO Nick Rusling was clearly excited about the changes his company is undergoing.
"We're now part of ASO and it's all very exciting," he enthused.
Being a part of the bigger company is clearly a key factor in how Rusling sees the partnership panning out and will help his company grow in expertise.
"It'll be a two-way street in terms of knowledge and information, they're bigger and there's lots we can learn and improve on," he says of the new parent company.
"The ASO team in the UK is Human Race. We're very much approaching it as we are one big team."
It was the Tour's visit in 2014 that sparked the French interest in a UK presence. "They came over here the Tour de France in Yorkshire, and got blown away by the success," said Rusling.
"I don't think they anticipated it to be quite what it was; just in terms of popularity."
Off the back of this, ASO began to actively seek a partnership or acquisition it could make to tap into what was clearly a vast market, and Human Race Events was their chosen partner.
Working with Welcome to Yorkshire to launch the Tour de Yorkshire, ASO and Human Race Events launched a mass participation sportive that precedes the final stage of the pro race.
Riders get the full experience with the Yorkshire crowds, taking on the tough parcours and by crossing the same finish line.
The sportivistes can then hang around wait to see some of the best domestic and WorldTour riders racing for the overall win.
Human Race's L'Étape London has already received a huge boost from the buy out. "With ASO we had Chris Froome at our sportive, a good and relevant example of what we can do together," Rusling said.
Three-time Tour de France winner Froome spent the whole day with participants at the late season event.
As an Étape ambassador, Froome visits two events around the world each year. Still in Europe after riding the Vuelta a España and said to be keen to ingratiate himself further with the British public, the Team Sky leader was good value on the day.
Chris Froome recreating his famous Mont Ventoux moment
Looking ahead, Rusling sees the two companies coming closer together to improve both of their offerings in the sportive markets around the world.
"[ASO] are extremely open, no egos and eager to improve and learn. They've seen us in action and that's one of the reasons they wanted to buy us: our ability to deliver a safe, great event," Rusling said.
Yann Le Moenner, managing director of ASO was equally enthused about the acquisition and how each company can complement the other.
"The relations forged with Human Race's teams and the initial projects put together with enthusiasm and efficiency convinced both sides of the possibility of pooling our skills," Le Moenner said.
He added, "the challenges that we will be able to meet thanks to this merger are proposing more events to cycling, triathlon and running enthusiasts, inventing new formats and spreading our values in the United Kingdom."
The UK branch will be sending its event directors out to ASO's events, such as the Paris-Roubaix Challenge, to advise and learn.
Expect to find a more continental feel at Human Race's events next year, and keep an eye out for a ride-ferry-ride cross-Channel event in the near future.
Thank you for reading 5 articles this month* Join now for unlimited access
Enjoy your first month for just £1 / $1 / €1
*Read 5 free articles per month without a subscription
Join now for unlimited access
Try first month for just £1 / $1 / €1
Jack Elton-Walters hails from the Isle of Wight, and would be quick to tell anyone that it's his favourite place to ride. He has covered a varied range of topics for Cycling Weekly, producing articles focusing on tech, professional racing as well as cycling culture. He moved on to work for Cyclist magazine in 2017.