Tony Gallopin says Tour de France lead was thanks to French solidarity
Tony Gallopin gave both Lotto Belisol and French cycling a massive shot in the arm when he took the yellow jersey in Mulhouse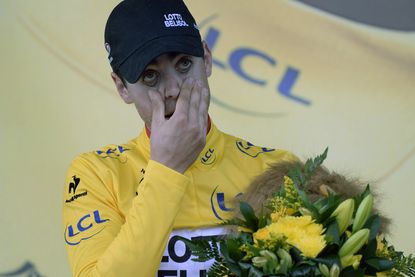 (Image credit: Graham Watson)
The organisers of the Tour de France couldn't have written the script any better with a French rider pulling on the yellow jersey the day before Bastille Day, July 14, a French national holiday when national pride swells to bursting point. Gallopin was way down overall before the start of the day but, as the best-placed rider on general classification when the winning break went, he was clear about his options.
"If I'm honest I had a little thought tucked away in my head after the pavé stage because the first priority for me here so far was to work in the sprints for Andre Greipel. It's my first year and its my first year working in the sprint train with him and there's a lot to learn. But I thought there were at least two stages that would possibly suit me and because I wasn't so well-placed on the GC I thought I might have a chance to go clear.
"I worked hard yesterday (on the summit finish - Ed.) to make sure I didn't lose so much time so I wasn't so far down. The team gave me carte blanche to go for it today, the team kept believing in me and gave me a chance to go for it today, so I've got to thank them and Marc Sargeant for that."
Gallopin rode for RadioShack for two years and won the 2013 Clasica San Sebastian before jumping ship to Lotto for a rumoured big hike in his salary with the Belgian outfit. At RadioShack he had worked with manager Johan Bruyneel and his uncle Alain Gallopin.
"What did I learn from Johan? It was a great experience, I learned so much in the team with him. I only had a short time there but working with Johan and my uncle Alain (Gallopin) was a fantastic experience. I think Johan is a 'grand monsieur' in the world of cycling, he knows so much," replied Gallopin, possibly not giving the answer expected of him.
But, for a French rider, wearing the yellow jersey on Bastille Day is a big deal and he was man enough to point out that there was a lot solidarity among the French riders in the break.
"I spoke with Pierre (Rolland) and the other guys who came through and worked in the break, you could feel the solidarity in the group among the French guys. It was hard on the last climb but they helped me stay in front, there was real support today, Rolland had Gaultier in the break too, but they helped, as did the Ag2r and Cofidis riders in the break."
So Gallopin will ride in the yellow jersey on Bastille Day and pretty much make Lotto's 2014 Tour de France a success. Even if Greipel doesn't add to his stage win tally and Gallopin spends only one day in the maillot jaune, Lotto will have had a good Tour.
The fact that Jurgen Van den Broeck - still the team leader as far as Gallopin is concerned - is still in the mix (13th at 4-36) is further good news. With the pressure off, thanks to Gallopin and Greipel, maybe Van den Broeck will push on up the general classification?
Tony Gallopin takes overall lead in race as overall contenders content to let escape group go in mountain stage
The French have something extra to celebrate during Bastille Day on Monday: a Frenchman in the lead of the Tour
Thank you for reading 20 articles this month* Join now for unlimited access
Enjoy your first month for just £1 / $1 / €1
*Read 5 free articles per month without a subscription
Join now for unlimited access
Try first month for just £1 / $1 / €1