Voeckler: Tour de France time bonuses could spell the end for breakaways
The veteran Frenchman has spoken of his concern that the return of time bonuses to the Tour might compromise the chances of a successful attack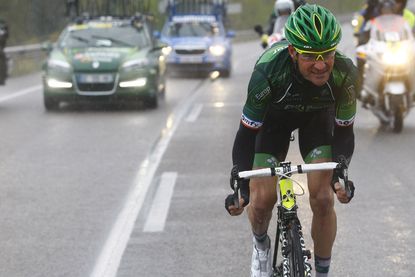 (Image credit: Watson)
For long-standing Tour de France viewers, it's a sight as familiar as Didi Senft, the 21 hairpins of the Alpe d'Huez or the endless publicity caravan.
But much like the Devil, who has reportedly hung up his trident due to poor health and a lack of sponsorship, an attack from Thomas Voeckler might now be a thing of the past.
With the return of time bonuses for the first time since 2007, Voeckler, who has picked up his four stage wins in the intervening years, is concerned that successful breakaways will be few and far between.
>>>Six amazing breakaways (video)
"For riders like me, it could condemn the breakaways," the Frenchman said at the team presentation on Thursday night (July 2), according to L'Equipe.
"Before, we had two races within the race: one for the stage victories, in which I could be interested, and one behind for the general classification.
"Now, the leaders will want to go for victory to pick up seconds."
And there could be an extra cost to Voeckler and his team if the 36-year-old is unable to make an impact on the Tour this year, with no sponsor for 2016 yet confirmed for the outfit currently known as Europcar.
"The situation is worrying," Voeckler said. "If you have a sponsor for the next four years, you can save energy on certain stages, and not take on attacks which have little chance of making it to the end.
"When you are searching for a partnership, there is a marketing aspect which you cannot dismiss. It would be suicidal not to want to take on the jersey."
Cycling Weekly looks at the route of this year's Tour de France
Thank you for reading 20 articles this month* Join now for unlimited access
Enjoy your first month for just £1 / $1 / €1
*Read 5 free articles per month without a subscription
Join now for unlimited access
Try first month for just £1 / $1 / €1