Didi The Devil set to retire
Grand Tour regular Didi 'The Devil' Senft will hang up his trident after appearing at the Tour de France since 1993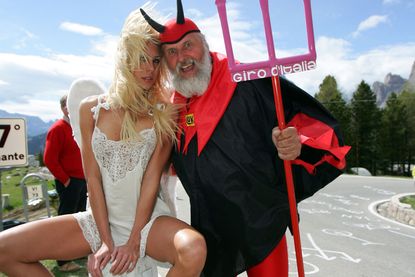 (Image credit: Yuzuru Sunada)
Having been a regular fixture at the roadside during the past two decades of the Tour de France and Giro d'Italia, Dieter 'Didi The Devil' Senft looks set to hang up his trident.
Senft's distinctive red costume, bushy beard and decorated trident have appeared in the Tour on numerous occasions, usually during a key mountain stage. But now, the 62-year-old German has decided that enough is enough after recent poor health and lack of sponsorship.
German paper Bild reports that lack of television coverage of the Tour in Germany has led to lack of interest in sponsoring Senft's efforts. His current income is €500 per month, which he says does not cover his costs of travelling to races.
Senft underwent surgery in 2012 to remove a blood clot in his brain, and was forced to miss the Tour that year, but returned in 2013.
Senft is also known for his inventions and over-sized bicycles, which he regularly takes to events and currently holds the Guinness World Record for the world's largest rideable bike.
There will no doubt be a slew of imitators now Senft has retired, but there will only ever be one Didi The Devil.
Photos by Graham Watson and Yuzuru Sunada
Thank you for reading 20 articles this month* Join now for unlimited access
Enjoy your first month for just £1 / $1 / €1
*Read 5 free articles per month without a subscription
Join now for unlimited access
Try first month for just £1 / $1 / €1