Tom Stewart's career development continues at the Tour of Britain
The Yorkshireman finished third in yesterday's stage to Hemel Hempstead after a day-long breakaway.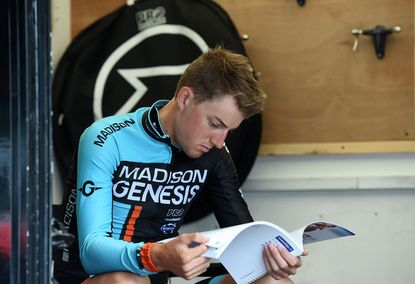 Tom Stewart's rise through the ranks continued as the Madison-Genesis rider impressively took third in yesterday's Friends Life Tour of Britain sixth stage.
Stewart broke clear with Alex Dowsett (Movistar) and Matthias Brändle (IAM Cycling) after a frantic first hour of racing upon leaving Bath, and the trio finished a minute ahead of the peloton in Hemel Hempstead.
The 24-year-old Yorkshireman only switched from mountain biking to road racing two years ago, and had the distraction of a masters degree in civil and structural engineering at Sheffield University occupying him until halfway through 2013. His only previous experience of competing in UCI-ranked stage races came in May's Tour des Fjords in Norway.
"I think that, like in most things in life, you want to keep momentum in your development," he said. "Getting to the Tour of Britain and getting in a break was the next logical step for me.
"Finishing third is a bit more than I was expecting, but I've been progressing at a sensible pace."
Stewart said he was in the "right place at the right time" as he followed Dowsett and Brändle up the road, and despite tiring in the second half of the stage, he made it to the finish after riding into a headwind for virtually the entire day.
"I started missing turns after about 125km. There was nothing I could do," he added.
"But I was more than happy to take third. The other two were happy to ride because of what was on offer for them. I wasn't too worried about them jumping away at the finish. If it happened, then I couldn't have done anything about it."
Team manager Roger Hammond praised Stewart's ride. He said: "He's so conscientious, he works so hard. Nobody deserves it more than him.
"That was not a lucky escape that went all day because nobody in the peloton was interested. That was a hardcore day of racing."
Credit: Nick Bull
DS Roger Hammond looking to make improvement on debut 2014 season as team are launched at iceBike*
Thank you for reading 20 articles this month* Join now for unlimited access
Enjoy your first month for just £1 / $1 / €1
*Read 5 free articles per month without a subscription
Join now for unlimited access
Try first month for just £1 / $1 / €1