CW meets: The Donny Chain Gang
One of the most famous training groups in the country, the Donny Chain-Gang, come together with 200 extras for a blast-fest in memory of a British cycling legend at the Tom Simpson Memorial Ride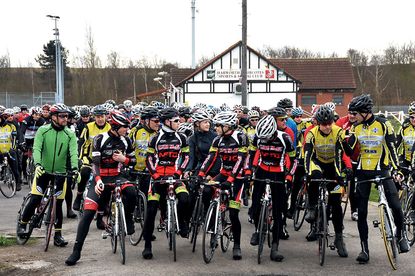 Get The Leadout Newsletter
The latest race content, interviews, features, reviews and expert buying guides, direct to your inbox!
Thank you for signing up to The Pick. You will receive a verification email shortly.
There was a problem. Please refresh the page and try again.
- When - Sunday February 23
- Where - Three counties, Nottinghamshire, Lincolnshire and South Yorkshire
- The occasion - The Tom Simpson Memorial Ride
If South Yorkshire and North Nottinghamshire cyclists had their own Twitter account, #notarace would have trended the week before the Tom Simpson Memorial Ride.
It's always been the same, long before Twitter came about — it's not a race, organisers stress, and everybody taking part knows it. But this is the last Sunday in February, a day when, if the weather is half decent, racers want to shake off winter, get their best bikes out and have a good old burn up.
"It's not a race," is the last thing organiser Dave Marsh says when the 220 riders who signed on set off from the start. Except in their minds it is. It's a race for the ambitious to hold their local pros, regulars from the Donny Chain Gang, for as long as they can.
Donny is what locals call Doncaster, especially when talking among themselves. The Donny Chain Gang is a loose association of riders who meet, mainly on Tuesdays and Saturdays.
Nowadays it's made up of local pros, like Russell and Dean Downing of NFTO, Graham Briggs of Rapha-Condor-JLT and Madison-Genesis's Tom Stewart, and a whole load of others who are on their way to their level, or dropping down from it. Anyone else who thinks they might be able to hang on long enough to get a good fast workout can join.
Same as it ever was
It's been like that for, well, forever really. There have always been good racers in this area, like Wayne Randle, John Tanner and before them Tom 'Ticker' Mullins and more, and they've always done these fast-moving training sessions, right back, in fact, to the days of Tom Simpson.
Both the Downings and Stewart are taking part in the Tom Simpson ride. And while the event may sound like a free-for-all, don't be alarmed, nobody was in danger. Maybe a few motorists were held up at the start, but the big bunch soon strung out along the route, and after an early burn by the pros, that same big bunch suddenly became a lot of little bunches.
"We went through and off for the first bit to Retford, which keeps everybody in a line," explains Russell Downing. "We always go hard on the crosswind flat section, then on the long steady climb to Gringley-on-the-Hill. That always splits it up, but it did even more damage this year because the wind was so strong."
Local tribute
The Simpson Memorial ride isn't an official event. It's a ride that takes place at a certain time on a certain date. Informal, like chain- gangs up and down the country, it's essentially a hard training session, a last test before the season starts.
The first ride was back in 1997, held to raise funds for a memorial stone in Harworth, where Simpson was born, and there was enough left over for a small display cabinet full of Simpson memorabilia in the Miner's Welfare sports pavilion. It's been an annual event ever since, replacing the North Midlands reliability trial. Not that the old reliability was a race either, even the year I 'won' it.
"Crosswinds blow, echelons form — the Donny Chain-Gang are in their element"
Subsequent Simpson rides raised money to repair the Ventoux Memorial when its base shifted. Then donations helped build steps up to it, and money from the 2014 event, nearly £1,300, will go towards repairing damage that occurred when the Ventoux memorial was blown off its plinth by an autumn gale last year.
In other years money has been given to the Dave Rayner Fund, which helps young riders do what Simpson did and race abroad, with the hope they'll become pros one day. As well as being a tribute by local cyclists to one of their own, the Simpson ride has done a lot of good for others.
Club spirit
The first section of the ride is 10 miles along what used to be the Great North Road, the old A1, which is as wide as a tennis court and mostly carries local traffic now. Through and off starts at the front as soon as the riders leave Harworth, and the speed never drops below 25mph all the way to Retford.
Simpson was born in Haswell in County Durham, but he grew up and started cycling in Harworth. His daily bike commute to work was along this very road. Later the route follows part of the time trial course that a 13-year-old Simpson took on his first race.
Simpson was a member of the Harworth and District Cycling Club then, and they've a good turn out here today, but so have other clubs and teams based in the area.
There are also plenty of visitors from West Yorkshire and further south in Nottinghamshire, including a big contingent from the red magnificence that is the Mansfield Road Club. They're in typical good spirits. I line them up for a photo and one of them jokes, "Hey, don't put this in the Comic, Chris. Two of us are claiming invalidity benefit."
Duty calls
It would be great to ride with them, but duty calls, so I collect Jon Sharples whose Trainsharp business coaches the NFTO and Haribo Beacon teams. He's in South Yorkshire for the Haribo Beacon team presentation, and they turn out in force today.
Sharples has tested the teams and got their numbers, so it's good to see the guys in action. We wait near the top of the mile-long drag to Gringley, where Russell Downing plans to put the hammer down, and sure enough he does.
Russell Downing leads a group of about 10, and they're flying. Father and son duo John and Jake Tanner are in there, some of the Haribo team, too. Tom Stewart is as well, but Russell is doing the damage, riding a little bit out in the crosswind, but not to the white line. "That way only 10 to 15 can follow. The rest have to form another group behind, or blow," Russell says, bluntly.
Some riders with good legs already have to reconsider their strategy. The 1991 Milk Race winner Chris Walker, solos past between groups: "I saw the front then I remembered how hard cycling was," he jokes. His son Joey shot by seconds ahead in a compact second group, and Walker senior slowly makes his way up to them.
Shortly after Dean Downing rides by, just off the front of one small group and to catch Walker's group up the road, smiling and giving us a wave as he rides by. After the event, Dean says, "I didn't even see the front," but he's being modest. Dean started after the other riders and has been catching groups on the road all the way. He eventually makes it up to a fairly large one and starts firing them into line, the same as his younger brother does up front.
Brothers in contrast
If you want to know the difference between the Downing brothers, it's out there today on this ride. Russell is riding just like he does everything, full on, head down backside up and his nose inches from his handlebar stem. Dean is more laid back, taking his time but making the effort when he needs to.
Their different approach has brought the brothers great results; Russell is that bit more driven, and Dean that bit more considered.
The route descends from Gringley into the lower Trent Valley. It's wide and flat here, and the wind pushes the riders north at Strava segment-busting pace. The front group has shattered most of the segments that they've done already.
The Trent Embankment section falls to Andrew Nicols, who records a time of nine minutes 58 seconds for eight kilometres, and the group slows down through the quiet villages. On the open roads between, Russell says the speed bounced "between 50 and 60kph".
Nobody at the front has much time to see anything, but it's another world out here — not the sinister one hinted at by a joker who wrote "Twinned with Royston Vasey" (the imaginary town from the League of Gentlemen series) on the Owston Ferry village sign — just one that feels timeless. The Trent villages have changed little over the years; they are still quiet enough for dogs to doze in the village square and for kids to play in the streets.
Mini-Belgium
This is a great place to ride, a sort of mini-Belgium. The Isle of Axholme undulates gently out of the flatness; it was an island once, dry land above the marshes drained in the 17th century to form the fertile plain it is today.
The route crosses Axholme's north flank as it turns west, providing just enough undulation to work with a fierce crosswind for Russell Downing to put the bite on the front group again.
"A few were starting to sit in, so I went hard over the motorway bridge then hard again when we hit the crosswind and the little drags between Belton and Beltoft. That split things up some more," Russell explains afterwards.
This is one of the sections I picked to take some photos. "That looks brutal," Jon Sharples remarks after the front group fly by. Russell leads, John Tanner is going through with him, Tom Stewart too, and the Haribo riders Jake Womersley and Jamie Shaw are doing the same and look very comfortable. Shaw goes on to win the junior Kuurne-Brussels-Kuurne race the following Sunday.
It's perfect training for Belgian racing. Several small and some larger groups pass us, all riding in echelon formation to deal with the wind. Meanwhile Russell and the others keep the pressure on all the way to Hatfield, where the route goes south. But the splits in the peloton have been made by then, and they remain for the 20 miles back to Harworth.
"The front group ended up with six of us in it, and we all did steady through and off to the end," Russell says.
He clearly can't wait to start racing this year. Although Russell chose to miss the Clayton Velo road race — the big road race in the north this weekend — to do this, it ended up having a slower average than the front group here. Not that the Tom Simpson Memorial ride is a race, of course.
See you next year. Look out for it on Twitter under #notarace.
Jon Sharples - Expert's view
Sharples is a man in demand this year. He not only coaches quite a few individual riders through his business www.transharpcyclecoaching.co.uk, he's coaching the Haribo Beacon and NFTO teams, too. And with his business colleague at Trainsharp, Sean Yates, he's also involved in the Catford CC-Banks under-23 team. It's a big job, because coaching is definitely not a one-size-fits-all business.
"Take the two teams I'm involved with. NFTO has Russell and Dean Downing, Adam Blyth and James McCallum, and they are experienced pros," Sharples says. "I'm there to help if they need me. I do their tests and provide numbers for them to work with, but my input won't be day to day with them. It doesn't need to be.
"But with the younger NFTO riders and with the Haribo Beacon team, I work out individual training programmes for each of the riders, based not only on tests results but their strengths and weaknesses. But they also need experience for racing. It's good for them to rub shoulders with older pros when they train in the local groups, like I know they do up here, especially on a day like this, when it's just a little bit competitive, too.
"The Downings can certainly teach them a lot about racing. Lots of riders can crank out the watts, but the Downings are a perfect example in how to use your watts in a race. Neither of them have big numbers, not like some have, but they race in a way that preserves their numbers so they are all there when they need them. Relatively speaking they have more power when it counts than others do. That's why they've won so many races."
"It was also good to see the riders in the crosswinds today. The wind was very strong and the way Russell and the other experienced riders used it was a good lesson. The young ones learned how to shelter, how to go through and how it's better to form another echelon behind rather than sit at tail end of the front one, where there's very little shelter. Today was a good session not just physically, but for race skills and experience."
Thank you for reading 20 articles this month* Join now for unlimited access
Enjoy your first month for just £1 / $1 / €1
*Read 5 free articles per month without a subscription
Join now for unlimited access
Try first month for just £1 / $1 / €1
Get The Leadout Newsletter
The latest race content, interviews, features, reviews and expert buying guides, direct to your inbox!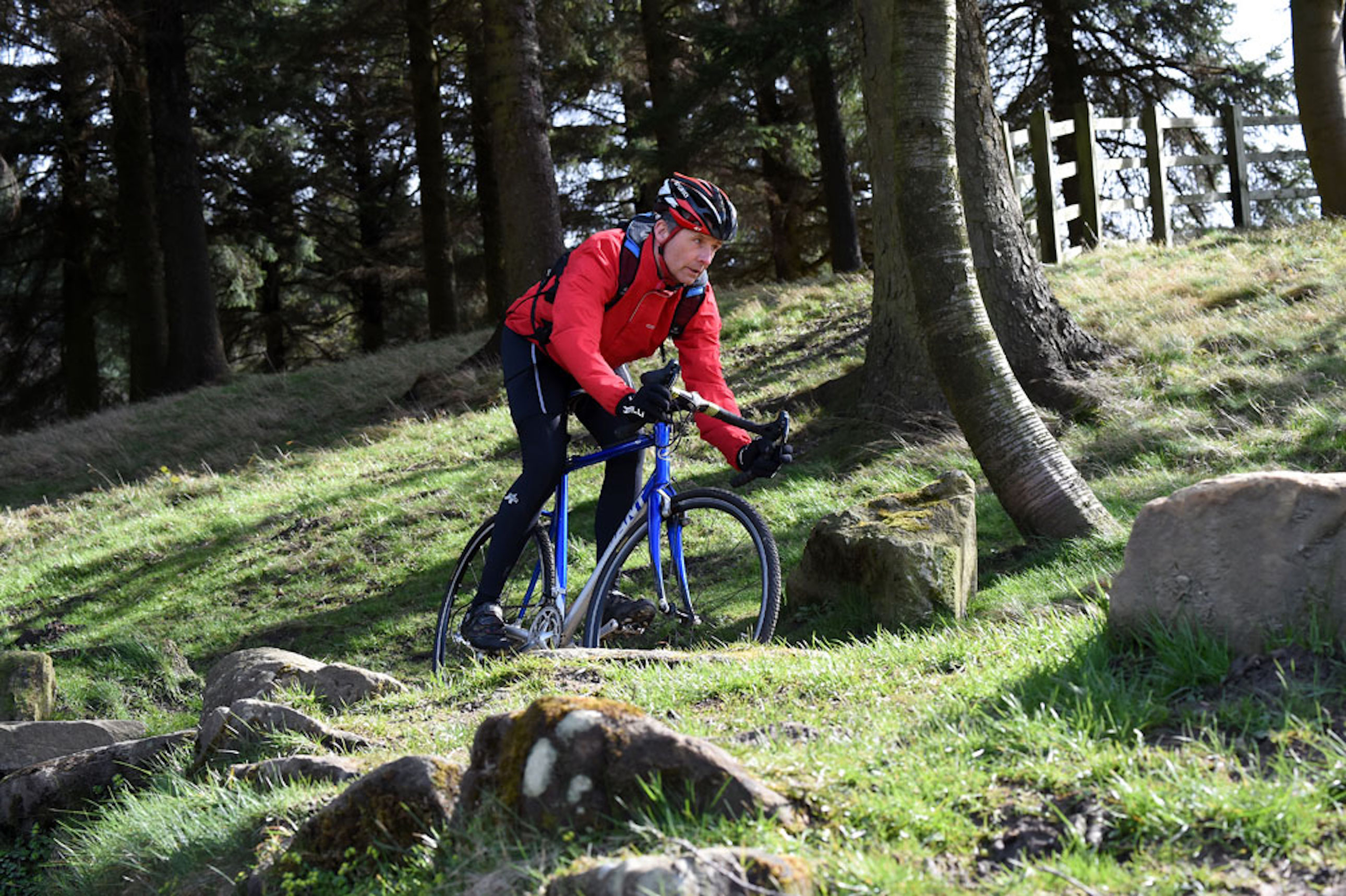 Freelance Journalist & Author
Chris has written thousands of articles for magazines, newspapers and websites throughout the world. He's written 25 books about all aspects of cycling in multiple editions and translations into at least 25
different languages. He's currently building his own publishing business with Cycling Legends Books, Cycling Legends Events, cyclinglegends.co.uk, and the Cycling Legends Podcast