Team KGF amateur riders named in Great Britain team for Track World Championships
Dan Bigham and Charlie Tanfield earn places in men's endurance squad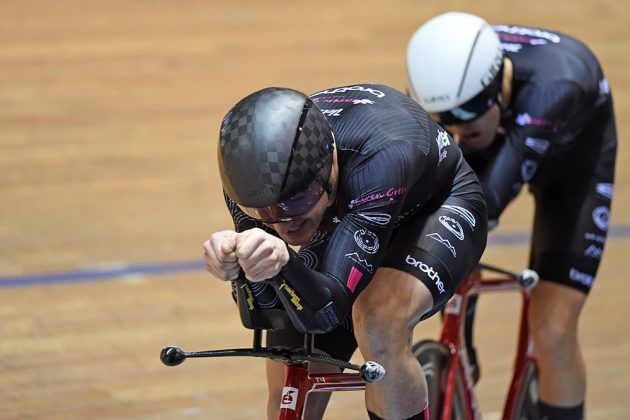 (Image credit: Andy Jones)
Two riders from Team KGF have earned places in the Great Britain team for the upcoming Track World Championships which start in Apeldoorn, the Netherlands on February 28.
Dan Bigham and Charlie Tanfield have impressed British Cycling selectors with performances over the course of the 2017-18 track season, with KGF winning the team pursuit at a round of the Track World Cup in Minsk where Tanfield also won the individual pursuit in the fourth fastest time in history.
The decision by British Cycling to name the two non-programme riders in the squad marks the first time in 10 years that riders from outside the British Cycling programme have earned places at the World Championships, the last being Kate Cullen in 2008.
Bigham and Tanfield have already been working with British Cycling coaches, and will now step up to make their first appearances in Great Britain colours with the men's endurance squad in the Netherlands.
"It will be interesting to see how our debutantes fare at World Championship level," said performance director Stephen Park.
"Dan and Charlie have made their mark on the track cycling scene this season and what they have achieved is commendable. I hope their efforts encourage others outside the centralised British Cycling system to follow their example.
"They are currently on a training camp in Mallorca with the men's endurance squad and it's a really exciting time for us to have an expanded pool of talent to select from."
Bigham and Tanfield will join the likes of triple Olympic champion Ed Clancy on the men's endurance squad where Ethan Hayter will also be making his World Championship debut, while the women's endurance squad will see the return of Laura Kenny six months after the birth of her first child.
Laura's husband Jason will also return to World Championship action after missing the event in 2017, while Lauren Bate will also be making her first appearance at World Championship level as she joins Katie Marchant in the women's sprint squad.
Great Britain team for UCI Track World Championships, Apeldoorn
Men's Endurance
Dan Bigham
Ed Clancy
Kian Emadi
Ethan Hayter
Chris Latham
Mark Stewart
Charlie Tanfield
Ollie Wood
Women's Endurance
Katie Archibald
Elinor Barker
Ellie Dickinson
Emily Kay
Laura Kenny
Emily Nelson
Men's Sprint
Jack Carlin
Phil Hindes
Jason Kenny
Ryan Owens
Callum Skinner
Joe Truman
Women's Sprint
Lauren Bate
Katy Marchant