Vini Zabù launches crowdfunding for anti-doping within the team after two riders test positive
The Italian ProTeam is asking for financial support from fans after pulling out of the Giro d'Italia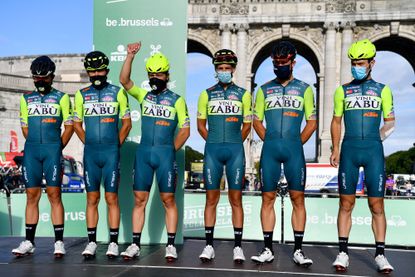 (Image credit: Getty Images)
Vini Zabù has launched crowdfunding campaign to pay for better anti-doping monitoring within the team, in the wake of two doping positives.
The Italian ProTeam has been suspended from racing after two of their riders tested positive within the space of 12 month.
Vini Zabù will miss the Giro d'Italia after the two anti-doping offences, and is now asking fans to donate money so they can improve their anti-doping checks within the team.
The team said: "We have decided to don't take part to the Giro d'Italia even if we have the right to, an act of courage and love to cycling, a huge sacrifice for a team..
"We are speaking to them, the fans of true cycling, the ones who were excited when Giovanni Visconti won two National Championships in a row, the ones who didn't forget the amazing attack that let Oscar Gatto win in Tropea at the Giro d'Italia in front of Alberto Contador, the ones who cheered for Pippo Pozzato at the Ronde Van Vlaanderen when only Tom Boonen was able to beat him.
"We live for these kind of emotions and that's why we want to increase our monitoring of our athletes to make sure that these episodes won't happen again as they damage our beautiful sport and the whole team,"
So far Vini Zabù have raised £35 with four people donating. The team haven't offered any specifics on what the new anti-doping measures would involve, but said: "We decided to open a crowdfunding because we repudiate doping and we want to fight it by creating a project that has worked well abroad but has never been done in Italy."
Cycling's international governing body the UCI announced on Monday, April 19 that the team would be banned from racing for 20 days for breaching anti-doping rules.
Vini Zabù recently pulled out of the Giro d'Italia as they investigated one of their riders, Matteo De Bonis, who tested positive for EPO earlier this year.
De Bonis's positive was the team's second doping violation in 12 months, following Matteo Spreafico's doping breach during the 2020 Giro d'Italia last October, which according to the UCI rules results in a ban for the entire team.
Vini Zabu's first doping positive came on October 22 last year, when Italian rider Spreafico was notified of an adverse analytical finding for the banned steroid Enobosarm (Ostarine) during tests at the Giro d'Italia.
That was followed by De Bonis, 25, who tested positive for EPO in an out-of-competiton test in Italy in February this year.
Following the announcement of De Bonis's positive test, Italian police carried out raids on the team's manager Angelo Citracca, sports director Luca Scinto and De Bonis, along with 22 other team members.
Citracca later told Cyclingnews that no banned substances were found during the searches and that the team were fully cooperating with police and the UCI.
Vini Zabù then pulled out of the Giro d'Italia.
The team had been invited to race the 2021 Giro on a wild card from the organisers, a decision that was criticised by rival team boss Gianni Savio.
>>> Dylan Groenewegen says he will never put Tour of Poland crash behind him completely
Savio's team Androni Giocattoli-Sidermec, initially left out of the Giro, have since been invited to the race to take their place.
Thank you for reading 20 articles this month* Join now for unlimited access
Enjoy your first month for just £1 / $1 / €1
*Read 5 free articles per month without a subscription
Join now for unlimited access
Try first month for just £1 / $1 / €1