Tao Geoghegan Hart adapting to steep learning curve in debut Grand Tour
The Briton heads into the unknown with his first three-week race, but is taking notes from the more experienced riders in his team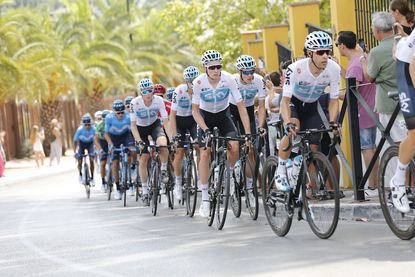 (Image credit: Yuzuru SUNADA)
Tao Geoghegan Hart is taking notes in the Vuelta a España, his first Grand Tour, and learning lessons for the future.
Team Sky's 23-year-old is riding deep into the second week of the Spanish Grand Tour, further than he has ever raced before.
"It's my first time racing more than nine days consecutively and the first time doing stuff like a rest day, and the overall workload obviously," Geoghegan Hart told Cycling Weekly. "I'm seeing how I respond.
>>> 'The dynamic of the race feels different': Is this Vuelta the most open Grand Tour in years?
"I have to say so far I'm not super happy with my level of performance, but I've been feeling better day by day. I think the heat was a problem for me at the start. I knew about it, but maybe I didn't prioritise it enough and didn't quite expect it to be so extreme. That's a big lesson for the future definitely."
Unfortunately, a crash also affected the Londoner in his first Grand Tour. He fell with team leader Michal Kwiatkowski on stage seven but could continue.
Now, he is heading into the unknown having only raced a maximum of nine days previously. It is a step ahead for him and Pavel Sivakov, both making their debut and testing the waters over three weeks.
"Just staying on top of the small things and not letting them become monotonous, and not taking you eye off the ball, fuelling is probably the big thing, hydration," he continued.
"And then just getting enough sleep and especially here in the Vuelta, it's quite difficult. It's almost like going to a different time zone with later nights and sometimes later mornings, but not always.
"I'm not most flexible with my sleeping patters. They stay rigid especially if I interrupt them a day or two. It's about adapting to those things and taking note of them for the future."
He has made several small steps towards the Vuelta ride. Last year, he was on the long list and missed out when Sky took a super squad to support Chris Froome, who eventually won. This year, he supported Geraint Thomas to his win in the Critérium du Dauphiné and turned heads doing so.
Team boss David Brailsford selected a young team with Geoghegan Hart for the 2018 Vuelta a España. It's an ideal low-key entry into a Grand tour, even if the team is supporting bigger names like Michal Kwiatkowski and David de la Cruz. The team already needed to defend Kwiatkowski in the first week when he had the leader's jersey for three days.
"Definitely," he said when asked if he is learning from the bigger names in the team. "We have a nice squad here and we always race with a great depth with a lot of experience and a lot of strong guys, good leaders.
"I'm looking forward to this block, seeing what the time trial holds and the next stages. I'm looking forward to racing in Andorra as I know those roads well.
Sky has kept a close eye on him. Many tip Geoghegan Hart as Great Britain's future Grand Tour star. He hopes his future is in the three-week races, too.
"I hope so. That's the direction I see myself going," he said. "I've always been pretty good with races as they get longer. So we will see how it goes."
Thank you for reading 20 articles this month* Join now for unlimited access
Enjoy your first month for just £1 / $1 / €1
*Read 5 free articles per month without a subscription
Join now for unlimited access
Try first month for just £1 / $1 / €1