Raleigh win sixth round of Tour Series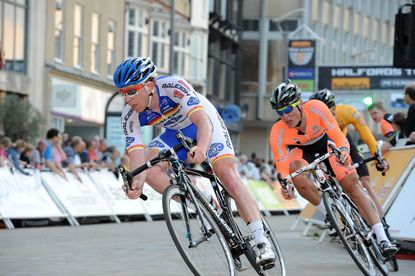 Tour Series 2012, round six photo gallery by Andy Jones>>
Raleigh-GAC claimed top honours in the sixth round of the Halfords Tour Series at Peterborough last night when they placed three riders in the top ten.
Rapha-Condor-Sharp's Ed Clancy took the individual win but with Daniel Holloway in second, Bernard Sulzberger in sixth and Graham Briggs in seventh, it was Raleigh who took the main prize.
Having been eclipsed by UK Youth at last Friday's round in Aberystwyth, series dominators Endura had to settle for second place again despite also placing three riders in the top ten.
Nonetheless Endura still lead the overall standings by a healthy nine points from Rapha-Condor-Sharp. Rapha, in turn, have both UK Youth and Raleigh now breathing down their necks in equal third place.
Peterborough also hosted the second round of the Johnson Health Tech Grand Prix women's series which was won by Harriet Owen.
The Node4-Giordana Racing rider moved her squad to the top of the team standings by outsprinting Annie Simpson (Matrix Fitness-Prendas) and Hannah Barnes (Team Ibis Cycles) at the head of a three rider break.
Simpson, who won the opening round in Oxford maintains her lead in the individual standings.
Highlights from both events will be shown on ITV4 at 8pm this evening. Round Seven for the men's Series then takes place in Canary Wharf on Thursday.
The women's Series resumes next week in Colchester on Thursday June 7th.
Results

Team result, Halfords Tour Series 2012, round six: Peterborough

1. Team Raleigh-GAC 10pts
2. Endura Racing 9pts
3. Rapha-Condor-Sharp 8pts
4. Node4-Giordana 7pts
5. Cycle Premier-Kovert 6pts
6. Team UK Youth 5pts
7. Team IG-Sigma Sport 4pts
8. Herbalife-LeisureLakesBikes 3pts
9. Metaltek-Scott 2pts
10. Team Hope Factory Racing 1pt
Individual result

1. Ed Clancy (Rapha-Condor-Sharp)
2. Daniel Holloway (Team Raleigh-GAC)
3. Scott Thwaites (Endura Racing)
4. Matt Cronshaw (Node4-Giordana)
5. Zak Dempster (Endura Racing)
6. Bernard Sulzberger (Team Raleigh-GAC)
7. Graham Briggs (Team Raleigh-GAC)
8. Ian Wilkinson (Endura Racing)
9. James McCallum (Rapha-Condor-Sharp)
10. Marcel Six (Metaltek-Scott)
Overall Team Standings

1. Endura Racing 56pts
2. Rapha-Condor-Sharp 47pts
3. Team UK Youth 46pts
4. Team Raleigh-GAC 46pts
5. Node4-Giordana 40pts
6. Cycle Premier-Kovert 28pts
7. Team IG-Sigma Sport 24pts
8. Metaltek-Scott 16pts
9. Herbalife-LeisureLakesBikes 15pts
10. Team Hope Factory Racing 11pts
Individual result, Johnson Health Tech Grand Prix Series 2012, round two: Peterborough

1. Harriet Own (Node4-Giordana)
2. Annie Simpson (Matrix Fitness-Prendas)
3. Hannah Barnes (Team Ibis Cycles)
4. Lucy Garner (Node4-Giordana)
5. Amy Roberts (Scott-Contessa-Epic)
6. Lydia Boylan (Look Mum No Hands!)
7. Louise Mahe (Mule Bar Girls)
8. Emily Kay (Scott-Contessa-Epic)
9. Helen Wyman (Kona Factory Racing)
10. Corrine Hall (Node4-Giordana)
Overall Team Standings

1. Node4-Giordana Racing 85pts
2. Matrix Fitness-Prendas 69pts
3. Look Mum No Hands! 41pts
4. Scott-Contessa-Epic 40pts
5. VC St Raphael 32pts
6. Mule Bar Girls 30pts
7. Abergavenny Road Club 15pts
8. Vivelo Bikes-Inverse-Cyclaim RT 11pts
9. Team Hope Factory Racing 9pts
10. WyndyMilla-UK Youth 6pts
Related links
Halfords Tour Series 2012: Cycling Weekly's coverage index
Halfords Tour Series round six photo gallery by Andy Jones
Thank you for reading 10 articles this month* Join now for unlimited access
Enjoy your first month for just £1 / $1 / €1
*Read 5 free articles per month without a subscription
Join now for unlimited access
Try first month for just £1 / $1 / €1