Rapha-Condor-JLT eyes set on Tour of Britain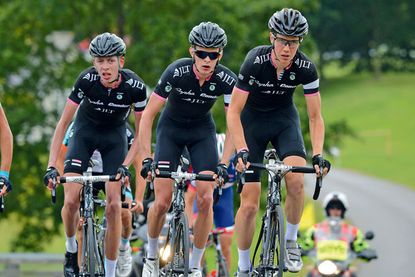 John Herety, manager of the Rapha-Condor-JLT team, is already preparing his team for the 2014 season, planning to end their competitive season at the end of the Tour of Britain on September 22.
"I've spoken to the sponsors - particularly JLT - and they are keen that we perform well in Australia in the first week of January. Last year we flew the team out on Boxing Day, but it wasn't enough time. It's hard to go from winter training to full-on racing, so we're going to rejig our season and take a 'winter' break straight after the Tour of Britain, then build and go out to Australia earlier."
And, speaking of the Tour of Britain, Herety was once again pleased to have got the nod from the race organisers to take part and had planned a race programme taking the team to tough Continental races in France and Belgium, as well as the new Ipswich and Coastal GP on September 8.
"Our goals will be the same as ever, to go there and be part of the racing, to get in breaks and participate," added Herety. "I am a bit worried about the cut-off point for riders in the time trial. If Wiggins and the rest ride flat-out then the cut-off could see some riders outside the time limit. It'll be a tough call for the organisers if that's the case."
Though of course losing 20 riders would save the organisers a decent wad of cash in hotel beds!
Returning to his aims for 2014, Herety was confident that the team would be back and probably bigger. "I'm still speaking to sponsors but early signs are that everyone is happy and will be back - maybe even a bit bigger," teased Herety.
"Getting sponsors to commit early is so important when you are planning ahead, in terms of logistics, race programmes and a rider roster. It's looking good though."
Sounds like he's got some insurance from somewhere!
This article was first published in the August 22 issue of Cycling Weekly. Read Cycling Weekly magazine on the day of release where ever you are in the world International digital edition (opens in new tab), UK digital edition (opens in new tab). And if you like us, rate us!
Thank you for reading 10 articles this month* Join now for unlimited access
Enjoy your first month for just £1 / $1 / €1
*Read 5 free articles per month without a subscription
Join now for unlimited access
Try first month for just £1 / $1 / €1