Rider disqualified from Zwift UCI World Championships hit with MyWhoosh DQ
South African Eddy Hoole disqualified by MyWhoosh due to Hoole's suspension by Cycling South Africa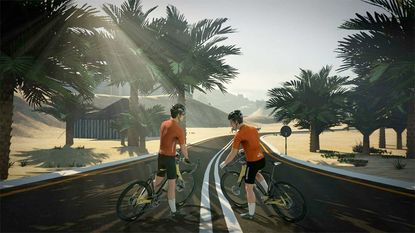 (Image credit: MyWhoosh)
A rider who was disqualified from the Zwift UCI E-Racing World Championships has now also been disqualified from a $300,000 competition on rival platform MyWhoosh.

In December 2022, Eddy Hoole, a South African athlete, was disqualified from a round of the competition qualifiers that had taken place a month earlier in November.

After an investigation launched by Zwift, Hoole was subsequently found guilty of data manipulation in an eSports World Championships Europe and African continental qualifier. He was then banned for six months and let go by his team Toyota CRYO RDT.

Hoole recorded a four-minute average power of 526 watts on the race's final climb, giving him a supposed power output of 8.5 W/kg and a VO2 max of over 90 ml/min/kg.

A statement released in December by Zwift's performance verification decision board said: "These values are significantly greater than those that have been measured for Olympic Pursuit Champions and World Record Holders (average power output over 4 min, approx. 7.5 W/kg) or Tour de France GC winners (VO2max, approx. 85 mL/min/kg)."

Zwift's Decision Board therefore concluded that Hoole's power meter was "very significantly miscalibrated", adding that it was "highly unlikely" this was an accident.

The statement continued: "The Board is comfortably satisfied that this was a result of deliberate manipulation of data, masked by the deliberate disconnection of the Zwift analytics datastream channel."
Hoole subsequently received a ban from Zwift and UCI competitions.

Now according to tech blogger DC Rainmaker Hoole entered another virtual cycling competition on the MyWhoosh platform- called Sunday Race Club- three months later. The Sunday Race Club competition can carry a prize pool of up to $314,000 USD.

DC Rainmaker reports that after Hoole had been spotted competing in the series, other users turned to the MyWhoosh Facebook page to question the ethics of allowing the South African to compete.

One user wrote: "I saw Eddy Hoole racing on SRC today. Are you really going to let this guy race? I'm sure many riders will be very sceptical with his performance, given his past."

After Hoole's presence on the platform had been noticed by the company, it soon became clear that he had been disqualified from the event.

MyWhoosh said that after they had been made aware of his participation on its platform, Hoole had "violated clause 1.4.5.3 of the MyWhoosh ruleset for participating in a MyWhoosh esports race while serving a suspension from Cycling South Africa".

"At MyWhoosh we are committed to ensuring fair racing is maintained. Every rider who enters MyWhoosh's esports racing events is subject to the MyWhoosh Performance Verification Program," MyWhoosh told DC Rainmaker.

"After an internal investigation, the MyWhoosh Cycling Esports Race Commission has annulled Eddy Hoole's participation from March 12th's Sunday Race Club… Eddy Hoole has violated Clause 1.4.5.3 of the MyWhoosh rule set for participating in a MyWhoosh esports race while serving a suspension from Cycling South Africa."
Thank you for reading 20 articles this month* Join now for unlimited access
Enjoy your first month for just £1 / $1 / €1
*Read 5 free articles per month without a subscription
Join now for unlimited access
Try first month for just £1 / $1 / €1