Rob Hayles: in his own words, part one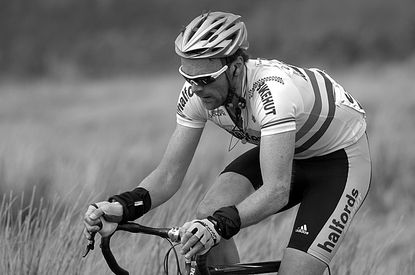 "Cycling has been a great life for me, and i hope it will continue to be in one way or another," tweeted Rob Hayles upon the announcement of his retirement from racing.
"After 27 years of racing, 19 of those full time, and 16 as a professional, I have had an amazing time," he added, and he recalled these to Cycling Weekly during a five hour interview two days after the final race of his cycling career.
In part one of our online special, Hayles talks about his early days, the track revolution and joining Cofidis in 2001.
Getting started
EARLY DAYS
"My dad was a coach at the Mountbatten Centre in Portsmouth. I started riding with a friend who stopped but I kept on going for a while until it got to the winter - I didn't touch the bike at all.
"But my father got grandstand seats for the Portsmouth City Centre Criterium the year Olaf Ludwig came over. I went with him, and that was it. 'I'm doing that', I thought. So I started again and rode though both the winter and summer. If anything, my Dad held my road career back because he didn't want me to go to the Centre of Excellences. He was track sprinter, so never had a road bike. He said: 'They do 80 miles on Sundays, it will kill you'. So as a junior I only did about three road races. I was all about the track, and the road always seemed to be a no go. Ultimately I was one of the few from my era who got road contract.
GROWING UP
"I was a junior for three years. In the first year I won nothing, then I was the junior points race champion the following season and that was about it. In the third year I got a fourth in the team pursuit at junior worlds in Colorado, and think I won the kilo and the pursuit."
An 18-year-old Hayles was a non-traveling reserve for the Barcelona Olympics.
"Paul Jennings came straight off the junior scene into Olympic squad. He had done a lot of road races, so Peter Keen said he could cope with pre-Games training in Belgium better than I would, which was fair. Missing out the never became my motivation when it came to 1996, 2000 or 2004."
Hayles in his early days
BEER MONEY
From the summer of 1989 until February 1992, Hayles worked full-time for the Gales Brewery in Horndean, East Hampshire. He left when he was named on the long list for the 1992 Olympics.
"I was a Technical Service Engineer which I enjoyed it because I was my own boss which within reason I have been pretty much most of my life. As long as you got the work done you didn't have anyone over your shoulder. My mum worked there and she got me the job for a summer. I fully intended on going back and doing my A Levels but I wasn't flushed with As, Bs and Cs so they offered me a job. I just fell into that.
"Before I got my driving licence I'd often have a couple of pints but daytime drinking isn't the best thing to be doing! I loved going to pubs at lunchtime when they were full. Part of the job was checking the quality of pints, so you have a quick and as soon as everyone started watching I'd tip it down the sink. That got them - I used to relish doing that! You could tell if people hadn't cleaned their pipes but you couldn't just go in and call them a dirty bugger!
"When Barcelona came up, I spoke to my mum and dad who I was still living with and they were happy for me to give it everything I could. I remember thinking: 'I'll be able to train all day', which I never, ever did. There's no point, but it just seemed like a nice thought!"
Track revolution
Hayles won his first national title in the kilo in 1993 - despite bending his handlebars in the final practice session - but had to wait 12 years to become a world champion.
"The first national KM title [which he won with a 1-07.05]... I must admit that was a good time on the track at Leicester back then. The atmosphere used to be great for the kilo. It was always floodlight and it was one of the big focal points for the meeting. I always used to ride really low - I don't know if it's aero but it certainly wasn't economical. I was always about getting lower, lower, lower.
"I rode a 1-06 at that year's Worlds in Haimar, which was a personal best at the time. I've still got it on video somewhere. I was slowest at half distance, but finished midway in the pack. Florian Rosseau won his first title there.
"I was now a part of cycling and I know from 1995 onwards, I feel I could have made a really good impression on the road. I started to train properly on the road but it seemed so far away; it was like a different world."
A Brit abroad
Helped by David Millar, Hayles joined Cofidis in 2001. He spent three years with the French team, experiencing the highs and lows of top-level racing.
"The Tour of the Med was my first race for Cofidis. Tom Steels came up to me in the neutral zone and said: "Hey Dave, how was your winter?" I went "WRONG BRIT!" I remember the speed, especially up the hills. I was shaking my head and I remember thinking I couldn't do this. I was 27, but it doesn't matter how old you are, the first year is the hardest."
Millar with Mark Cavendish, Geraint Thomas and Hayles
"I was down to ride three races in Europe towards the end of March 2001. Before the second, we had a team meeting, and at the time my French still wasn't that great. In the race, a group went clear just after the feed. I was going well, and three of us were just about to ride up to them. I looked back and the other two had stuck their brakes on. I joined the leaders but we all got caught later. I was about to go home when I was told to head back to the hotel. I didn't know what was going on. I was in the shower and our director Alain Deloeuil came in. He told me I was going to do Three Days of De Panne, Flanders, Wevelgem and Roubaix. It turned out that in the team meeting we were told they needed someone else for the classics, and whoever did the best in that race would step in. So that's why the other two chucked the anchors on. There's no way I would have backed out of doing those races. As it turned out I did Roubaix all three years, and did Flanders twice."
Related links
Rob Hayles: in his own words - bonus part two
Rob Hayles: in his own words - bonus part three
History of Hayles - magazine feature
Rob Hayles rider profile
Thank you for reading 10 articles this month* Join now for unlimited access
Enjoy your first month for just £1 / $1 / €1
*Read 5 free articles per month without a subscription
Join now for unlimited access
Try first month for just £1 / $1 / €1
Nick Bull is an NCTJ qualified journalist who has written for a range of titles, as well as being a freelance writer at Beat Media Group, which provides reports for the PA Media wire which is circulated to the likes of the BBC and Eurosport. His work at Cycling Weekly predominantly dealt with professional cycling, and he now holds a role as PR & Digital Manager at SweetSpot Group, which organises the Tour of Britain.