Russell Downing wins Beaumont Trophy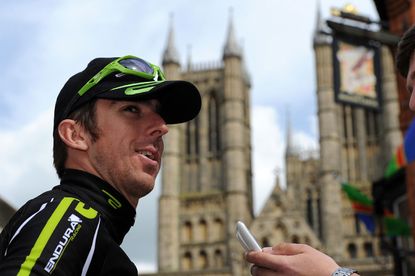 The winner of the Lincoln Grand Prix last month, Russell Downing secured a second consecutive victory in the Premier Calendar Series when he stormed to victory at the end of the Beaumont Trophy, an epic 108-mile race around Northumberland.
Downing, 33 and from Rotherham, sprinted to victory ahead of UK Youth's Chris Opie and Node 4-Giordana's Marcin Bialoblocki - but it was mightily close on the line.
Node 4 manager Malcolm Elliott lodged an official complaint with the commissaires shortly after, claiming Downing had not maintained a straight line in the final 400 yards, but his appeal was dismissed and Downing stepped on the top step of the podium to throw the race for the Premier Calendar title wide open.
Downing's Endura Racing team-mate Scott Thwaites still leads the series with two rounds to go, but with Thwaites due to miss the final round in Salisbury, the fate of the 2012 series looks set to go right down to the wire.
After several earlier small breaks had come to nothing, a large group of more than 30 riders formed at the front for the closing couple of laps, with most of the big teams represented.
The pace forced the group to string out, but Downing and Thwaites were to the fore and rounded the final corner on the front, side by side. Opie and Bialoblocki powered round Thwaites, but could not overhaul Downing in the final few hundred metres.
Downing's victory means that an Endura Racing rider has won all five rounds of the Premier Calendar so far, and Downing said afterwards: "We had five Endura riders working hard in that final move and we were all working for Scott.
"With 400 metres to go I struck out, Scott was there but didn't come round me as I was expecting.
"It has been another good day for Endura Racing, we set out to win every race and that's what we've managed to do so far in the Premier Calendar Series, we are all very happy."
Earlier in the day the same roads had staged the Curlew Cup, a round of the Women's National Road Race Series, where Sarah Storey OBE (Escentual For Viored) took victory to boost her lead in the series.
Results

Beaumont Trophy 2012, 108 miles

1. Russell Downing (Endura Racing) in 4-18-38
2. Chris Opie (UK Youth)
3. Marcin Bialoblocki (Node 4-Giordana)
4. Scott Thwaites (Endura Racing)
5. Peter Williams (Node 4-Giordana)
6. Peter Hawkins (IG-Sigma Sport)
7. Ben Grenda (Rapha-Condor-Sharp)
8. Dale Appleby (Metaltek)
9. David Clarke (Node 4-Giordana)
10. Owain Doull (100%ME) all same time
Curlew Cup, 55 miles
1. Sarah Storey (Escentual For Viored) in 2-28-31
2. Catherine Williams (Bizhub SCF)
3. Helen Wyman (Kona)
4. Eileen Roe (Ibis Cycles) at same time
5. Rebecca Heath (VC St Raphael) at 4 secs
6. Annie Simpson (Matrix Fitness Prendas) at 2-47
7. Corinne Hall (Node 4-Giordana)
8. Siobhyn McNamara (Inverse)
9. Tracy Best (Shutt Squadra Donne)
10. Iona Sewell (GB Cycles) at same time
Thank you for reading 10 articles this month* Join now for unlimited access
Enjoy your first month for just £1 / $1 / €1
*Read 5 free articles per month without a subscription
Join now for unlimited access
Try first month for just £1 / $1 / €1
Snowdon Sports is a long-established independent sports news agency, which supplies editorial to a range of media outlets - such as Cycling Weekly - as well as sports governing bodies. Snowdon Sports often covers results at Cycling Time Trials events in the UK and has long been a source of information and imagery to Cycling Weekly.