Simonstrong campaign announces 2012 fundraising events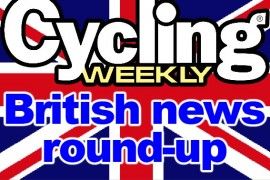 >>>We want to hear what's happening in your area - from racing results to sportives, recreational cycling to commuting. To submit your stories for CW's British news round-up, please email Nick Bull or Richard Abraham>>>


The Simonstrong campaign - launched last summer after Paralympian Simon Richardson MBE was hit by a van during a training ride - has announced a series of fundraising events for 2012.
Starting with a 25-mile club time trial in Birmingham (on the K28 course) at the start of June, the events are currently scheduled to run the Calshot 24-hour Trackathon in November.
Whether participants ride for fun or to test themselves against the watch, all money raised from the events will go to the Simonstrong fund, as well as the Hampshire and Lancashire Air Ambulance.
For information and how to enter email Graham Hewson.
Simonstrong 2012 events
Sunday June 3 - The Team Midland Simonstrong Rough Riders 25
Friday June 15 - Newport Simonstrong Mini Trackathon (10 hours)
July/August (Date TBC) - Edinburgh Meadowbank Stadium Simonstrong
Friday September 21 - Calshot Velodrome Simonstrong Training Session
Sunday September 30 - Team Midland Simonstrong Last Chance Ten
October (Date TBC) - Manchester Velodrome Simonstrong Training Session
November 2/3 - The Simonstrong 24-hour Trackathon, Calshot
Despite the removal of its two strada grigio sections from the route, organisers of the South Carrick David Bell Memorial (June 10) insist this year's course is 'no reserve'.
Riders were scheduled to tackle the unsealed Carrick Forest Drive twice, but ongoing maintenance work has rendered that impassable.
However, the National A event will now feature four laps of the "Ayrshire Alps' - the Nic O Balloch, Glenalla, the Screws and Byne hills. In total, the race takes in over 2,000m of climbing.
Rapha-Condor-Sharp and VanillaBikes.com are among the teams signed up to compete thus far.
The official posters for the race have been unveiled too, after pupils in local schools were given the opportunity to enter a competition. Over 80 entries were submitted, with Megan Crowhurst and William Ratchford winning the primary school category. David Leng took the prize in the secondary school equivalent.
Specialized have signed a three-year deal to become the official neutral service provider for the Tour of Britain.
The California-based company has been involved in the race since it returned to the calendar in 2004, most notably winning two stages through Mark Cavendish in 2011.
PR & Sports Marketing Manager at Specialized James Booth said of the deal: "The idea of becoming more involved in this event in the Olympic year and especially with the grand finale of the race finishing in Surrey was one than Specialized couldn't refuse."
Cav wins in Dumfries last year - the race returns there in September, but will the world champion?
>>>We want to hear what's happening in your area - from racing results to sportives, recreational cycling to commuting. To submit your stories for CW's British news round-up, please email Nick Bull or Richard Abraham>>>
>>To catch up on previous weeks' round-ups see the British news round-up index page>>>