Sky leader Lofkvist loses more time at the Giro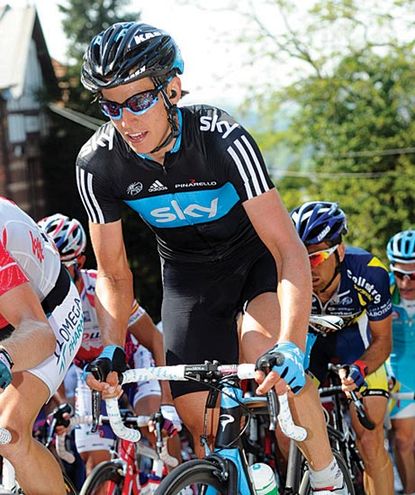 Thomas Lofkvist's Giro appears to be going in the same way as Bradley Wiggins' 2010 Tour de France.
The Team Sky leader started the race with ambitions of a high overall finish. But after losing 2-41 on Mount Etna and then 3-49 climbing up to Grossglockner today, the Swede now lies in 22nd position overall.
With the general classification already starting to take shape, that's not an especially good place to be for a hopeful contender.
Lofkvist finished in a higher position at last year's Tour (17th), and that was after spending much off the race nursing an off-form Wiggins before finally being let off his leash in the Pyrenees.
The idea of him leading the team at the Giro was to give him an uninhibited stab at going for the overall at a Grand Tour. As it says on Team Sky's website, ultimately winning one is where his ambitions lie.
"I was not that great today," a clearly disappointed Lofkvist said, shivering with cold and struggling to climb into a leg warmer at today's lofty finish line amongst snow fields. "I've had a problem with my lungs. I've got an infection. So I'm not that good at all."
Between coughs, Lofkvist explained that he'd picked up the infection after the Etna stage, blaming the dry air on the Sicilian Volcano. He also added there had been a fair bit of illness going around the Sky team.
Like the climb up to Etna, today's 13th stage into the Austrian Alps ultimately turned into a game of damage limitation for the 27 year old. Dropped by the leaders at the bottom of the final ascent, he came in with a group of 11, shepherded by team mate Dario Cioni.
Lofkvist was not alone amongst those with designs on the GC to lose time. Crossing the line with him were Christophe Le Mevel, Stefano Garzelli and Marco Pinnotti. Carlos Sastre was even further back.
Nonetheless, over seven and a half minutes down on Alberto Contador already, and with two more tough mountain stages coming up just this weekend, a top ten overall finish appears unlikely.
Will this affect how he rides the rest of the Giro now? Surely his GC aims are over. Would it not be more worthwhile saving himself over the next couple of days in order to try and hit out for a stage win?
"I've not thought about it yet," he replied. "Today was just about getting to the finish. But we've got a couple of hard days in front of us and this was supposed to be the easier of the three! We'll see what happens."
Thank you for reading 10 articles this month* Join now for unlimited access
Enjoy your first month for just £1 / $1 / €1
*Read 5 free articles per month without a subscription
Join now for unlimited access
Try first month for just £1 / $1 / €1