'Small brands are living day-to-day' - Why British cycling companies are going under
We look at the challenges facing the country's cycling brands in the current cost of living crisis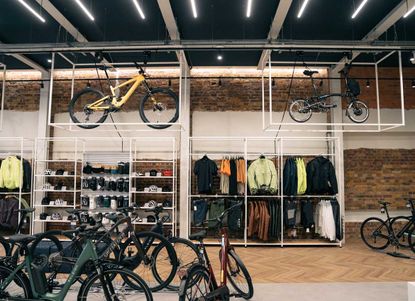 (Image credit: Sigma Sports )
The new year has brought a rough start for the British cycling industry. Already in 2023, two clothing brands have entered liquidation, with many others suffering a dip in sales.
The first brand to fall was Velovixen, a kit company specialising in womenswear, who ceased trading after 11 years in business. Last week, it was announced that Milltag, another kit manufacturer, had also been forced into liquidation.
Speaking to Cycling Weekly, Velovixen co-founder Phil Bingham pinned his company's collapse on a "perfect storm" of factors, citing "energy prices, inflation, doom and gloom amongst consumers and the cost of living".
Here, with insight from some of the industry's main players, we delve deeper into the challenges that are pushing British cycling brands closer to the precipice.
What's happened to the market?
During the Covid lockdowns, the cycling industry boomed, with more people riding than before. For those selling kit and equipment, this brought an influx of new customers. "It was great," says Tim Bland, founder of clothing company Stolen Goat. "But I think we all fell into the same trap."
During that period, Bland adds, some companies looked to expand to meet the spike in sales. "We went fairly deep on stock," he says, "to make sure that we could cover ourselves for the demand that was coming in the first quarter of 2021."
A combination of people returning to work, new Brexit trade rules and supply chain issues caused by the war in Ukraine suddenly left brands overstocked. As a result, Bland explains, companies have had to shift surplus goods, flooding the market with discounted clothing.
"As a brand, you're forced into doing the same," he says. "Everyone's overheads have gone up, and especially if you added headcount during that boom period and went slightly deeper on marketing, then things got expensive quite quickly."
How much is Brexit a factor?
Brexit, too, has had an impact on business. Yesterday, Andrew Lang, the founder of bicycle storage company Cycloc, revealed to The Guardian that new Brexit trade rules had led to a 25% drop in sales for his company.
Cycloc's head of operations, Clare Lowe, tells Cycling Weekly: "If Brexit hadn't happened, we'd have been in a much better place than we are now." As a result of new trading rules, she adds, EU distributors ceased placing orders, citing high costs of shipping and customs clearance.
These factors have left a significant hole in revenues for British brands who rely on the EU market. For Cycloc, this was to the tune of £100,000.
The company, which designs custom storage mounts, has now registered with a scheme in Ireland to serve the EU market. Still, Lowe explains, this hasn't halted the issues. "We're seeing more stuff getting stuck in customs," she says. "We've seen packages sitting in customs for up to two weeks.
"I guess the biggest impact for us is the fact that it's taken us away from developing new products. We've always prided ourselves on being innovators, and we've had to utilise our time to speak to distributors instead."
Stolen Goat founder Bland says that, while his company hasn't been hit hard, Brexit is still leaving a mark. The company does around a quarter of its business internationally, but the majority of this is with the US, rather than the EU.
"Nevertheless, we do have [EU] customers we have to deal with," Bland says. "We saw it as a cost of doing business with the EU, just a bitter pill that we had to swallow."
How's the cost of living squeeze affecting businesses?
Faced with financial woes, consumers tend to look closely at their outgoings to see where they can cut back.
Retail spending, Velovixen co-founder Bingham outlines, is the obvious area to start with. "If you're thinking, 'Do I spend £100 on a nice cycling jersey or do I stick that on my heating bill?' Understandably to people, it's discretionary buying a fancy cycling kit."
According to the latest figures from the Consumer Prices Index, inflation in the UK was at 10.5% in December 2022. While low-income households are the most affected, think tank the Resolution Foundation predicts that the average family can expect to be £2,100 worse off by the end of the next financial year in April 2024.
For cycling brands, Stolen Goat's Bland believes, this is likely to continue to have an impact on sales. "Nobody needs a cycling jersey to survive," he says. "It's ultimately a luxury purchase, and it's one of the things that people will cut back on if they have to."
"Most of these small brands, they're living day-to-day, frankly, in terms of cash flow. They don't have massive buffers or huge investors."
Still, Bland adds, there's some cause for optimism. "In times of hardship, when fuel prices are going up and all the rest of it, you do tend to see people cycling more as a mode of transport.
"For the industry as a whole, I think that can be seen as very much a positive in the sense that there are more people using their bikes and, as we roll into the spring, then hopefully that picks up further."
Thank you for reading 20 articles this month* Join now for unlimited access
Enjoy your first month for just £1 / $1 / €1
*Read 5 free articles per month without a subscription
Join now for unlimited access
Try first month for just £1 / $1 / €1