Sponsoring the Tour de France Femmes: what's in it for Zwift?
With a 4-year investment, the virtual platform goes all in on women's cycling, while also trying to reduce its own gender gap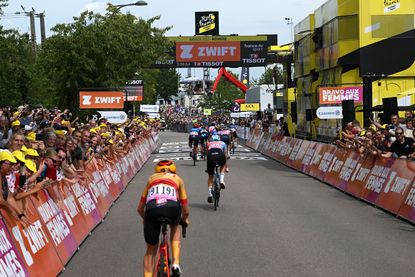 (Image credit: Getty Images)
Get The Leadout Newsletter
The latest race content, interviews, features, reviews and expert buying guides, direct to your inbox!
Thank you for signing up to The Pick. You will receive a verification email shortly.
There was a problem. Please refresh the page and try again.
With the route reveal of the 2023 Tour de France Femmes avec Zwift comes the renewed excitement for another fantastic showcasing of women's cycling.
From where we sit, this year's momentous revival of a women's edition of cycling's most recognizable event, the Tour de France, was a smashing success. Millions of people across five continents and 190 countries tuned in to watch eight action-packed days of racing. Thousands more crowded the French countryside streets and banged on the finish line boards.
Across cobbles and gravel, up brutal mountain climbs and down screaming descents, in Paris and the remote countryside. The 144-women-strong peloton delivered a tremendous show and on July 31st, on top of the Super Planche des Belles Filles, history was made when an unmatchable Annemiek van Vleuten was crowned as the first official women's Tour de France yellow jersey winner in 33 years.
Anyone who watched this historic event would have undoubtedly seen the orange-and-pink branding from Zwift. From the billboards to the podium banner down to the little stuffed squirrel mascots stage winners received, Zwift was everywhere. This visibility, along with the adding their name to the official race title, was handsomely paid for by the virtual training platform as a four-year sponsorship deal, which will give the event some time to grow and drum up continued commercial interest — a feat previous renditions all failed to do.
Being the title sponsor of the biggest cycling event on the calendar doesn't come cheap. And while Zwift won't reveal how just much the four-year investment cost them, Kate Veronneau, Zwift's Director of Women's Strategy, assures us that the investment is "significant."
But what's in it for Zwift, a virtual world far away from the very real cobblestones of the Champs Elysees?
Playing the Long Game
"This is a long play," Veronneau admits, adding that Zwift has been investing in women's cycling since the beginning, evidenced by their Zwift Academy Program, which started as a women's program at first, and prize purse parity across the Zwift races from the beginning.
"I want people to believe that we truly want to help create that future of cycling, that we all want to be a part of an inclusive, bright future of cycling, where little girls can dream of lining up to the Tour de France Femmes avec Zwift. We want to be looked at as a catalyst for change," Veronneau says.
Investing in the Tour de France Femmes doesn't come without risk. There have been several versions of a women's Tour de France throughout history, dating back to 1955, but none managed to survive without sufficient financial support or (commercial) interest.
Zwift's four-year sponsorship provides the financial backing, and four-year guarantee, the event needs to establish itself.
"It's a big play. It's a call to action for the whole industry. I'm hoping that this partnership is one of those tides that, you know, lifts all boats," says Veronneau.
"If we are saying that [women's cycling] is the game that we want to change, we hope that that sparks other people to also jump on board, to get behind supporting women's pro cycling, to point people to watching it and to talk to their companies about sponsoring a team or sponsoring a race.".
I think in terms of the business case, their return of investment (ROI) if you will, Veronneau says success will be measured in brand value, visibility and affinity.
"An estimated 3.5 billion people watch the Tour of France, and 70% of cycling viewership in a year is focused on the Tour of France. So it's about getting a piece of that pie. If we're going to support women's cycling, let's do it at the most visible high profile level that is going to get our brand name out there and show how big of an investment we're willing to make in the future of women's cycling," she says.
Zwift's Own Gender Gap
Ultimately, Veronneau admits that the end goal of the four-year Tour de France Femmes sponsorship includes decreasing their own gender gap.
Female Zwift users account for just 18% of all users, which is significantly lower than say Peloton's female participation —estimated at 45 to 49%— or even female gym attendance in the U.S., which the IHRSA states is now 50.5%.
Just how many riders that 18% equates to, Veronneau wouldn't say, but with initiatives like sponsoring the Tour de France Femmes, Zwift expect that number to grow.
"Of course, in doing this, I want people when they think about indoor riding, especially women to say, 'Wow, well Zwift has a big heart and they're doing good things for the future of cycling so I'm going to train indoor and sign up for Zwift'," Veronneau says.
"Women are the fastest growing demographic on Zwift. Women cycling numbers are rising so fast and we want to be front of mind when people are thinking about cycling and about companies that are doing good things for the future of women's cycling."
One Event Down, Three More to Go
Success isn't measured purely in women sign up numbers. Instead, the people at Zwift have been keeping an eye on viewership numbers and media hits. Social media engagement, click throughs and the general "buzz" which Zwift spend a lot of time, money and energy to create with their #WatchTheFemmes campaign.
Now, three months after the inaugural Tour de France avec Zwift took place, Veronneau says the eight-day race was an "unprecedented success," even if it's only the beginning.
"The race accomplished the mission of elevating women's cycling and inspiring people around the world," says Veronneau.
"We are incredibly proud of this year's game-changing race, but the finish line on La Super Planche des Belles Filles is also a start line; we look forward to working with ASO, the teams, and riders to evolve the race year on year, growing the premier women's event in a sustainable way, sparking increased investment in pro cycling, and keeping these athletes on the pedestal they deserve."
Thank you for reading 20 articles this month* Join now for unlimited access
Enjoy your first month for just £1 / $1 / €1
*Read 5 free articles per month without a subscription
Join now for unlimited access
Try first month for just £1 / $1 / €1