Swift reflects on dream win in Tour Down Under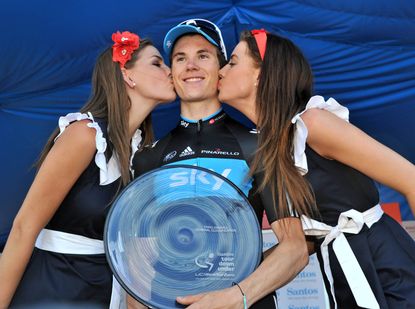 Sky's Ben Swift took another major step in his young career last week at the Tour Down Under. He gave Sky its first win of the season with stage two. For good measure, he took a second one on the final day, enough to move into third overall.
On the overall podium, Swift stood behind winner, Australian Cameron Meyer (Garmin) and second-placed Matt Goss (HTC), also an Australian.
CW: You are only 23. Is this a dream win for you?
BS: Yes, my first dream was to turn professional and now to be winning at the top, that's absolutely great.
CW: Did your first stage win in Mannum give you confidence?
BS: Yes, it gave me a bit of confidence, especially after last year. I didn't have a great year last year, with a lot of injuries and illness. It is actually unreal to come here and get two stage wins and a podium. It was not even a target, but after that first stage win, it was pretty clear that I was going to try to for the GC.
CW: What do you say to Goss? In a sense, you and Greg Henderson prevented him from winning the GC.
BS: That's bike racing. I got the stage win. Gossy only needed to get in front of Hendi to win the GC, but that's bike racing. He was happy, he just congratulated me.
CW: What do you have to say about the Tour Down Under?
BS: It's fantastic, you saw the crowds out on Willunga. It's not very often you get people coming out, as many people as that. And then the number of people that were waiting at the stage [for the presentation].
CW: We've seen another side of Mark Cavendish this week. What was your impression of his work to help Goss?
BS: It's really very good, it's quite nice to see that he'll do that for the team cause everyone knows that he is the world's fastest sprinter. It is not very often that he gets to do stuff like that. I know that he really likes to repay his team and it's not very often that he gets to ride on the front.
CW: And on racing with Lance Armstrong in his final international race?
BS: The first time I rode with Armstrong was the 2009 Giro. I had my first season, my first Grand Tour, and so it was even more special to ride with someone such as Armstrong. To ride with him in his final international race, yeah, it is really special.
CW: What is next?
BS: Now, I go to the Manchester World Cup and try to get my way back into the team pursuit team, then on to the track worlds, hopefully. I will make my road return at the start of April at [the Three Days of] De Panne.
Related links
Swift's Tour Down Under wins help GB's Olympic hopes
Tour Down Under 2011: Cycling Weekly's coverage index
Ben Swift: Rider Profile
Thank you for reading 20 articles this month* Join now for unlimited access
Enjoy your first month for just £1 / $1 / €1
*Read 5 free articles per month without a subscription
Join now for unlimited access
Try first month for just £1 / $1 / €1