Sybrandy sets new Strava KOM on Box Hill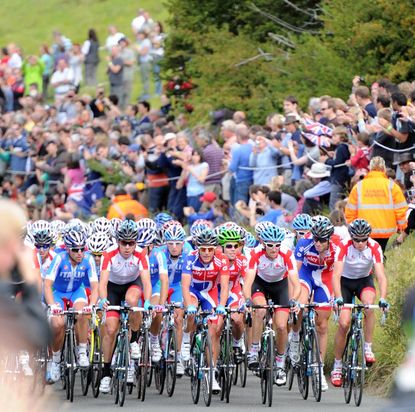 Wouter Sybrandy made use of the new tarmac laid on Box Hill last week, setting a new Strava KOM on the climb's segment.
Sybrandy, an IG Sigma professional rider, took just four seconds off of Roy McGregor's time set last August. The Dutchman logged a time of five minutes 26 seconds, averaging 27.6km/h on the 2.5km climb with an average power of 502 watts.
Only the bad weather stopped more cyclists flocking to the Surrey climb at the weekend after the council finished re-laying it ahead of the Olympic road race in July. When the road was closed the Italian women's team and some of the men likely to make up the German Olympic team arrived in Surrey to reconoitre the climb.
The new surface is extremely smooth and the speed bumps have been taken out. The shrub at the bottom to the side of the road at the bottom of the climb has also been cleared, perhaps to accomodate spectator numbers of 15,000. After the test event the riders feedback was that they didn't like the silence on most of the climb.
Strava is becoming increasingly popular among both amateur and professional riders, with the KOM functionality it's major draw. The website uploads ride data from a Garmin GPS or iPhone and automatically ranks riders on segments. Riders can also create their own segments once they have ridden them.
The Strava segment for Box Hill in Surrey


Related links
LOCOG raise Box Hill Olympic capacity to 15,000 fans
LOCOG to charge for Box Hill and time trials
Thank you for reading 20 articles this month* Join now for unlimited access
Enjoy your first month for just £1 / $1 / €1
*Read 5 free articles per month without a subscription
Join now for unlimited access
Try first month for just £1 / $1 / €1