Team Raleigh and Node4 make Midlands their home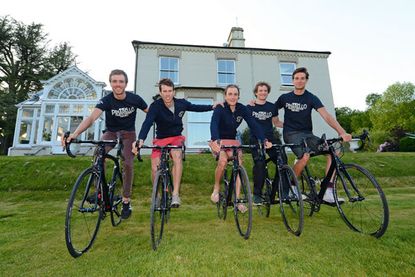 North Staffordshire is not the first place you would look to find five cyclists from New Zealand. Nor would you head to the suburbs of Derby to find another group of three Australians, one Kiwi and a Canadian.
Yet here they are; five Kiwis put up by Node4-Giordana boss Phil Griffiths just outside Stone and, less than 30 miles down the A50, two more houses, both formerly part of a mental asylum, which house five new recruits at Team Raleigh.
You might not recognise the faces, but you might recognise some of the names. Tom Scully, a former stagiaire with Garmin-Sharp, has already been blasting his way around the UK's crits to victories in two Tour Series, and the London Nocturne. His Raleigh team-mate, Lachlan Norris, finished third at the Lincoln Grand Prix while Roman Van Uden has finished in the top 10 of over half of the Tour Series rounds.
These nine intrepid Antipodeans (and one Canadian) have become fixtures in this season's domestic calendar, as well as abroad, but it took them a little while to get going. "Our first race in England was the Rutland-Melton CiCLE Classic," said Node4's James Williamson. "They chucked us into the deep end, and then we did the Tour of the Reservoir!"
"The 'Res' was a shock to the system," described Tom Scully, recalling dropped riders in the neutral zone. "Sitting in the car with your numbers on and its been snowing since you left the hotel. I don't know what the word for that is!"
Diversity
Winter's icy grip feels a long time ago at the vast dining table of the Node4-Giordana flat, as it does the following warm morning when CW meets the Raleigh riders at their favourite cafe, 'Kona Blue' in Derby. Yet given the riders' previous lives, their comments say a lot about the British domestic scene.
All five of the Node4 Kiwis rode together for the now defunct PureBlack Racing team, set up in the mould of Australia's GreenEdge by a millionaire New Zealand yachtsman, Carl Williams, but which failed to find a long-term sponsor at the end of 2011.
Like their Raleigh rivals they raced all over the world, from the village halls and cups of tea of the New Zealand club scene to the pay-by-the-hour hotels of the Tour of Langkawi, with stints in Colorado and Europe thrown in between.
"Bike racing over there in Asia doesn't really have much semblance to bike racing anywhere else," recalled Roman Van Uden. "Races have got a start and a finish, but pretty much anything and everything else in-between is different."
Their previous years living together on the road goes someway to explaining the domestic harmony at home in Stone, as does the presence of Mike Northey's wife, Marina, who lives with the quintet and takes care of cleaning and massages. "She's the boss," says Shem Rodger. As tough as it is to ride through the British winter though, life as a bike rider in the UK looks pretty rosy when seen through the eyes of a new arrival.
Besides Sam Witmitz's week of snowed-in solitude before the Raleigh riders had a car, this is something both teams agree on. Fresh food is easy to come by, the culture and language is familiar and, short of high mountains, the UK's roads offer some of the best training in Europe.
"We'll always be exploring, and you can pretty much ride a new route every day," explained Norris, who rode as stagiaire for HTC in 2011. "We've nicknamed a few loops. The 'Gilbert Epic' climbs 3,200m in 150km, which is pretty good considering there are no climbs over two minutes long.
"We've also got a habit of naming areas that remind us of stuff," he added, before rolling off a list of names including 'Siberia,' the 'Swiss Alps' and 'Skyfall,' where "it looked just like the bit in James Bond in Scotland, nothing and then this big old dark creepy mansion".
"We were pretty excited by the offer [to race in the UK]," said Williamson. "It was pretty much the best thing that could have happened to us at that point."
They might be living the good life, but racing here is no holiday. Difficult recent times for the road race calendar haven't made it any less competitive, nor has the ever-so-slightly improving weather mellowed the intensity of the domestic peloton.
"We were used to racing wide, fast American crits," said Mike Northey, the only one of the 10 to have raced in the UK last year. "There you're not worried about sitting 50th wheel and having someone dive-bomb you for 49th wheel."
"It's all about positioning and holding your own, because no one gives you an inch out there," added Norris. "You've got to fight for your right."
Where experience counts, where inside information on courses and the form book is vital, and where teams are becoming ever more professional; Britain, with all its idiosyncrasies, is now an appealing place to come and race a bike.
"We even get them to put the Tour Series on the TV in the Nag's Head pub in Mickleover," said Norris, "but a couple of weeks ago there must have been a pretty important football match and there was quite an uproar. We had to go to the dining room to watch it."
Two flavours of home .. Martmite matters
As anyone living abroad will testify, there are some things that just aren't the same as back home. Luckily for ex-pats hailing from Down Under, those things come in jars.
"I've got two jars of Marmite," says Tom Scully. "I stocked up before I came over. One is stashed at the back of the cupboard, hidden for later on in the season."
Both sets of riders take their yeast extract seriously. Kiwi Marmite, Mike Northey explains, is nothing like British Marmite, which he describes as too runny. It is more like Australian Vegemite, he says, but woe betide anyone who says they're the same: "I'm a Vegemite man through and through," adds Lachlan Norris.
"New Zealand Marmite is pretty potent," adds James Williamson. "Actually it has only just come back into stock because the [2011 Christchurch] earthquake knocked out the factory. They had to ship it back from Australia, and jars were going for £25 a pop because there were none left."
This article was first published in the June 20 issue of Cycling
Weekly. Read Cycling Weekly magazine on the day of release where ever
you are in the world International digital edition (opens in new tab), UK digital edition (opens in new tab). And if you like us, rate us!
Thank you for reading 10 articles this month* Join now for unlimited access
Enjoy your first month for just £1 / $1 / €1
*Read 5 free articles per month without a subscription
Join now for unlimited access
Try first month for just £1 / $1 / €1
Richard Abraham is an award-winning writer, based in New Zealand. He has reported from major sporting events including the Tour de France and Olympic Games, and is also a part-time travel guide who has delivered luxury cycle tours and events across Europe. In 2019 he was awarded Writer of the Year at the PPA Awards.