Ten years in time trialling: How they've changed
Cycling Weekly photographer Andy Jones takes a look back through his time trial photo archive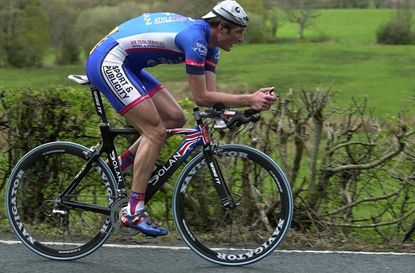 Ten years spans the difference between some of these 'then and now' pictures.
There is a fresh-faced Alex Dowsett riding for Maldon in 2004, with Glendene in 2005, to being a fully fledged pro with Sky in 2012 and now Movistar.
Steve Cummings with Sports Publicity back in 2004 before his Discovery, Barloworld, Sky and now BMC days. Thrown in are pics from 2004 of TT legend and Cycling Weekly columnist Michael Hutchinson and his old nemesis Stuart Dangerfield who finally retired from the TT scene in 2009.
It's interesting to see the change in equipment, clothing tech, physique and riding positions. Just check out the immaculate transmission on Dangerfield's 2004 bike.
Alex Dowsett back in 2004 National 25 TT
Alex Dowsett in 2012. National TT Champ in the National 25 TT
Alex Dowsett successfully defending his National TT title in 2012
Dowsett riding in the Tour of Britain time trial, 2014
Alex Dowsett in the 2004 National 25 TT Championship - Dorking
Dowsett National 10 TT Junior Champion 2005
National TT champion Dowsett battles to second in the 2012 National 25 TT
Steve Cummings riding the Rudy Project TT event at Bassenthwaite, Cumbria 2004
Steve Cummings leaves the start ramp at the start of the 2012 Tour de France in Liege, Belgium
Steve Cummings in the Tour of Britain 2014, stage 8a time trial
Steve Cummings riding the Rudy Project TT event at Bassenthwaite, Cumbria 2004
Steve Cummings at the National TT Championships in 2011
Michael Hutchinson at the National 25 TT 2004
Hutchinson at the National 10 TT 2012
Hutchinson at the National 25 TT 2012
Going stealthy: Michael Hutchinson, National 10-mile time trial championships 2014
Hutchinson at the Rudy Project TT at Bassenthwaite in 2004
Hutchinson at the National 10 TT in 2004
Hutchinson at the National 10 TT in 2012. Note Osymetric chainrings
Stuart Dangerfield - National 10 TT 2004
Stuart Dangerfield's immaculately prepared machine - National 10 TT set up
Dangerfield, National 25 TT - Dorking 2004
Dangerfield, National 25 TT Dorking 2004
Dangerfield in 2006 at the Rudy Project round at Stourport
In 2009 riding for Shorter Rochford Cycles at the National 10 TT. Note change in position on bike. Took third behind second place Andy Tennant and winner Michael Hutchinson
Thank you for reading 10 articles this month* Join now for unlimited access
Enjoy your first month for just £1 / $1 / €1
*Read 5 free articles per month without a subscription
Join now for unlimited access
Try first month for just £1 / $1 / €1