"The Last Rider" movie review: a timeless tale of perseverance, love and America's true Tour de France hero
Now showing in theaters nationwide, the new Greg LeMond feature film is so much more than another Tour de France documentary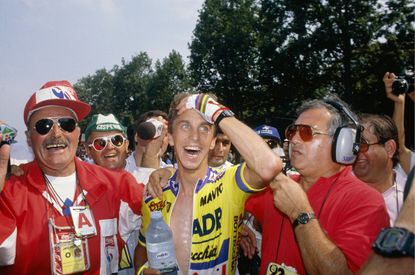 (Image credit: Greg LeMond in THE LAST RIDER Photo Credit Offside Sport Photography Ltd. Courtesy of Roadside Attractions)
If the Netflix series "Unchained" doesn't rapt American audiences, perhaps the new Greg LeMond feature film will connect them to cycling in a new way.
Premiering today in theaters across the country, "The Last Rider" is a feature-length documentary that chronicles Greg LeMond's rock bottom year and his legendary comeback at the nail-biting 1989 Tour de France.
Directed by award-winning filmmaker Alex Holmes, the race almost serves as a backdrop. Instead, viewers are offered an intimate portrait of one of America's greatest athletes of all time as he maneuvres betrayal, childhood sexual abuse, getting shot, and coming back from the brink of death to face his rivals and win the Tour de France by just eight seconds — the closest winning margin in the race's history till this day.
The film features never-before-seen footage from the 1989 race as well exclusive interviews with LeMond himself, his former coach Cyrille Guimard and his wife Kathy, whom LeMond credits for his success.
The film has been a long time in the making. Holmes first met LeMond when making his 2014 film, Stop at Nothing, about the now-disgraced cyclist Lance Armstrong. That film was "a very dark story about a man who set out to destroy anyone who questioned his reputation," Holmes said, and upon finishing that project, he felt inclined to make a film that shines a more positive light on the sport.
"Good stories; they're timeless in a way," LeMond told Cycling Weekly, "And it's funny; it's only years later that people can appreciate something. Had I had a Netflix [show] to help others understand what was happening at that time, that would have been…well, I'd love to have had a little more forgiveness at the time and understanding what I went through."
Intrigued? See a list of theaters currently showing the film here.
L'Americain
It's been more than 40 years since LeMond burst onto the international cycling scene, so you'd be forgiven if you're not too familiar with LeMond's story. Allow me to give you the Cliffs Notes on America's greatest cyclist.
Born in California in 1961, LeMond started cycling in his early teens and proved to be a natural. He reportedly won the first 11 races he entered, and that success followed him on the world's stage as he earned several junior national and world titles.
He was scouted by famed team director Cyrille Guimard in 1980, and LeMond made his professional debut with the Renault team in 1981 alongside cycling great Bernard Hinault. LeMond would become the first American to infiltrate the Euro-centric cycling world, and his nickname became, simply, "L'Americain" — the American.
When he won the UCI Road World Championship in 1983, he was the first American male cyclist to do so. Similarly, with his first Tour de France victory in 1986, he became the first non-European professional cyclist to win the men's Tour.
"When I started cycling, Americans could never compete against the Europeans," LeMond says in the film. "For me, it was like, 'Oh my gosh, that was my dream. Being the first American ever to put on the yellow jersey...That was the most magical thing I've ever experienced."
LeMond would go on to win the Tour de France two more times and earn a second world title as well. With his successes, LeMond played a key role in popularizing cycling in the United States —even appearing on the cover of Sports Illustrated!— and inspired an entire generation of American cyclists to start pedaling.
Off the bike, LeMond is known for surviving a near-fatal hunting accident in which he got shot with a pellet gun and nearly lost his career. A champion of equipment innovation, LeMond championed several technological advancements in pro cycling, including the introduction of aerobars and carbon fiber frames — which he later produced under the eponymous bike brand.
Hitting rock bottom and cycling back out
The film does a good job introducing LeMond to the viewers, starting with his entry into the sport and leading up to the year that changed everything.
It was 1986, and LeMond had done it. He stood on the Champs Elysees podium wearing the iconic Tour de France yellow jersey, a lifelong dream fulfilled, yet the first-ever American victor was far from happy. The win had been a bitter one. Betrayed by his friend and mentor, Bernard Hinault, he'd had to fight tooth and nail for every single second. The peloton had turned against him, the outsider, and he'd had to go it alone.
The betrayal triggered a deep-seated trauma for LeMond: that of childhood sexual abuse and one that he'd been suppressing, perhaps outrunning, by cycling. His moment of victory spiraled into a depression.
"Nobody had any clue what I was going through physically and psychologically," LeMond says. "Trauma changes a person."
And things were about to get even worse.
Just months after his historic Tour win, LeMond was accidentally shot by his brother-in-law in a hunting accident; dozens of lead pellets burying deep into LeMond's every major organ. He came within 20 minutes of bleeding to death but survived, yet the recovery years would be his toughest battle yet.
And this is what the heart of "The Last Rider" is about: the journey of persistence, of hope and overcoming, of reclaiming a lifelong dream, and of one of the greatest comeback stories in sports.
While this comeback happens at one of the most nail-biting editions of the Tour de France's 109-year history —and the film does do an excellent job building the tension— "The Last Rider" is much more than a documentary of that legendary race.
"The Last Rider" is a showcasing of one man's personal journey with his mental and physical health, a true love story between him and his childhood sweetheart turned wife Kathy, and our beloved sport at its absolute best.
Thank you for reading 20 articles this month* Join now for unlimited access
Enjoy your first month for just £1 / $1 / €1
*Read 5 free articles per month without a subscription
Join now for unlimited access
Try first month for just £1 / $1 / €1