The new Greg LeMond feature film is out now — here's where to watch it near you
"The Last Rider" is shown in movie theaters all across America; here's where to find it in your city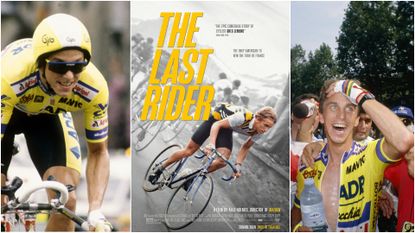 (Image credit: The Last Rider)
Now playing in theaters across the country, The Last Rider is a new feature-length documentary that chronicles Greg LeMond's rock bottom year and his legendary comeback at the nail-biting 1989 Tour de France.
Directed by award-winning filmmaker Alex Holmes, viewers are given an intimate portrait of one of America's greatest athletes of all time as he maneuvres betrayal, childhood sexual abuse, getting shot, and coming back from the brink of death to face his rivals and win the Tour de France by just eight seconds — the closest winning margin in the race's history till this day.
"Good stories; they're timeless in a way," LeMond told Cycling Weekly, "And it's funny; it's only years later that people can appreciate something. Had I had a Netflix [show] to help others understand what was happening at that time, that would have been…well, I'd love to have had a little more forgiveness at the time and understanding what I went through."
Cycling Weekly got an advanced viewing of the film and came away with the following sentiment:
The Last Rider is a story "of persistence, of hope and overcoming, of reclaiming a lifelong dream, and of one of the greatest comeback stories in sports.
While this comeback happens at one of the most nail-biting editions of the Tour de France's 109-year history —and the film does do an excellent job building the tension— The Last Rider is much more than a documentary of that legendary race.
The Last Rider is a showcasing of one man's personal journey with his mental and physical health, a true love story between him and his childhood sweetheart turned wife Kathy, and our beloved sport at its absolute best."
Watch the trailer
Theaters showing the film, starting June 23:
Swipe to scroll horizontally
| Header Cell - Column 0 | State | City | Theater |
| --- | --- | --- | --- |
| 2 | AZ | Tucson | Century El Con 20 Theatre |
| 3 | CA | Santa Monica | Monica Film Center |
| 4 | CA | Torrance | Rolling Hills 20 |
| 5 | CA | Encino | Town Center 5 |
| 6 | CA | Burbank | Burbank Town Center 8 |
| 7 | CA | San Rafael | Smith Rafael Film Center |
| 8 | CA | Petaluma | Petaluma Cinema Boulevard 14 |
| 9 | CA | Sebastopol | Rialto Cinemas 9 |
| 10 | CA | San Francisco | Opera Plaza Cinemas 4 |
| 11 | CA | Santa Clara | Mercado 20 |
| 12 | CA | San Diego | Mission Valley 20 |
| 13 | CA | La Jolla | AMC UTC 14 |
| 14 | CA | San Luis Obispo | Palm Cinema |
| 15 | CA | Laguna Niguel | Rancho Niguel 8 Cinemas |
| 16 | CA | Santa Barbara, CA | Fiesta 5 |
| 17 | CO | Boulder | Century 16 |
| 18 | CO | Fort Collins | Cinemark 16 - Fort Collins |
| 19 | CO | Colorado Springs | Tinseltown 20 |
| 20 | CO | Westminster | Westminster Promenade 24 |
| 21 | FL | Tampa | Veterans Expressway 24 |
| 22 | FL | Sarasota | Burns Court |
| 23 | FL | Aventura | Aventura Mall 24 Theatres |
| 24 | FL | Davie | Paradise 24 |
| 25 | FL | Winter Park | Winter Park Village 20 |
| 26 | FL | Boca Raton | Palace 20 |
| 27 | FL | Fort Myers | Bell Tower 20 |
| 28 | FL | Lake Buena Vista | Disney Springs 24 |
| 29 | GA | Atlanta | Phipps Plaza 14 |
| 30 | HI | Honolulu | Dole Cannery 18 |
| 31 | ID | Boise | The Flicks 4 |
| 32 | IL | Highland Park | Wayfarer Theaters |
| 33 | IL | Skokie | Village Crossing 18 |
| 34 | IL | Chicago | Newcity 14 |
| 35 | IL | St. Charles | Charlestowne 18 |
| 36 | IL | Evanston | AMC Evanston 12 |
| 37 | IN | Indianapolis | Keystone Art Cinema 7 |
| 38 | KS | Overland Park | Glenwood Arts |
| 40 | KS | Leawood | Town Center 20 |
| 41 | MA | Boston | Boston Common 19 |
| 42 | MA | Danvers | Liberty Tree Mall 20 |
| 43 | MA | Hadley | Cinemark @ Hampshire Mall 12 |
| 44 | MA | Framingham, MA | Framingham 15 |
| 45 | MD | Baltimore | Charles Theatre |
| 46 | MD | Silver Spring | Majestic 20 |
| 47 | ME | Waterville | Maine Film Center |
| 48 | MI | Ypsilanti | Ann Arbor 20 & IMAX |
| 49 | MI | Novi | Emagine Novi 17 + SuperEMX |
| 50 | MI | Grand Rapids | The Celebration North |
| 51 | MI | Lansing | Celebration Cinema 19 |
| 52 | MN | Roseville, MN | Rosedale 14 |
| 53 | MO | Frontenac | Plaza Frontenac Cinema |
| 54 | MT | Missoula | AMC Missoula 12 |
| 55 | NC | Raleigh | Movies @ North Hills 14 |
| 56 | NC | Asheville | Biltmore Grande Stadium 15 |
| 57 | NC | Durham, NC | Southpoint Cinemas 17 |
| 58 | NJ | New Brunswick | New Brunswick 18 |
| 59 | NJ | Voorhees | AMC Voorhees 16 |
| 60 | NM | Albuquerque | Century Rio 24 |
| 61 | NM | Santa Fe | Violet Crown Cinema - Santa Fe 11 |
| 62 | NV | North Las Vegas | Regal Aliante Stadium 16 & IMAX |
| 63 | NV | Reno | Century Riverside 12 |
| 64 | NY | New York | Village East Cinemas |
| 65 | NY | Westbury | Raceway 10 |
| 66 | NY | Stony Brook | AMC Stony Brook 17 |
| 67 | NY | West Nyack | Palisades Center 21 |
| 68 | NY | Buffalo | Elmwood Regal Center 16 |
| 69 | NY | Albany | Spectrum 8 |
| 70 | NY | Rochester | Little Theatre |
| 71 | NY | Ithaca | Cinemapolis 5 |
| 72 | NY | Syracuse | Regal Destiny Stadium 19 |
| 73 | NV | Minden | Carson Valley 8 Cinemas |
| 74 | OH | Westlake | Crocker Park Stadium 16 |
| 75 | OH | Cincinnati | Mariemont 4 |
| 76 | OR | Portland | Fox Tower 10 |
| 77 | OR | Portland | Century Clackamas 20 |
| 78 | OR | Salem | Santiam 11 |
| 79 | OR | Eugene | Broadway Metro |
| 80 | OR | Corvallis, OR | AMC Corvallis 12 |
| 81 | OR | Bend | Regal Old Mill 16 |
| 82 | PA | West Homestead | Waterfront 22 |
| 83 | TN | Memphis | Malco Cordova 16 |
| 84 | TN | Knoxville | Downtown West Cinema 8 |
| 85 | TN | Nashville | Hollywood 27-Nashville |
| 86 | TX | Houston | Greenway Grand Palace Stadium 24 Cinemas |
| 87 | TX | Bee Cave | Hill Country Galleria 14 |
| 88 | TX | Austin | Gateway 16 |
| 89 | TX | Frisco | Stonebriar 24 |
| 90 | UT | Salt Lake City | Broadway Centre Cinemas |
| 91 | UT | Salt Lake City | Century 16 - SLC |
| 92 | UT | Park City | Holiday Village 4 Cinema |
| 93 | VA | Alexandria | AMC Hoffman Center 22 |
| 94 | VA | Hampton | Hampton Towne Center 24 |
| 95 | VA | Richmond | Movieland 17 At Boulevard Square |
| 96 | VA | Charlottesville | Violet Crown Charlottesville |
| 97 | VA | Richmond | West Tower 10 |
| 98 | VT | South Burlington | The Palace 9 |
| 99 | WA | Seattle | Meridian 16 |
| 100 | WA | Lacey | Martin Village Stadium 16 |
| 101 | WA | Bellingham | Pickford Film Center 3 |
| 102 | WA | Seattle | Seattle 10 |
| 103 | WA | Vancouver | City Center 12 |
| 104 | WA | Spokane | River Park Square 20 |
| 105 | WA | Kennewick, WA | AMC Kennewick 12 |
| 106 | WI | New Berlin | Ridge Cinemas 20 |
| 107 | WI | Madison | Point Cinemas 16 |
Thank you for reading 20 articles this month* Join now for unlimited access
Enjoy your first month for just £1 / $1 / €1
*Read 5 free articles per month without a subscription
Join now for unlimited access
Try first month for just £1 / $1 / €1