The man whose vision led to the creation of North Kent's £9.7 million Cyclepark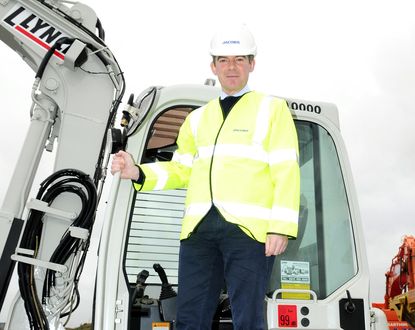 When the £9.7 million Gravesend Cyclepark in North Kent opens next March - at 43 hectares it will be the biggest facility of its kind in Europe, claim Kent County Council - the sport will owe a huge debt of thanks to the former first category roadman whose idea it was, Tony Mack, a retired engineer and a member the Gravesend CC.
"I was concerned by the growth of traffic making roads unsuitable for cyclists," says Mack. "The circuit at Fowlmead near Dover is too far away. This area was crying out for its own cycling facility."
Well, after eight years of debate and discussion, Gravesend is to get its own cycle facility. And none other than Olympic gold medallist and BMX world champion Jamie Staff will be involved, with his on-site academy to develop young talent.
Mack is a man with a bit past form. He had a couple of wins at Eastway in the 1970s when he rode for Southend and County. He recalls being caught up in the crash caused by pro John Clarey at what became known as "Clarey's corner", at the end of the finishing straight when ridden anti-clockwise.
When Mack read that the A2 was to be re-aligned, his vision was for the old A2 to be retained for time trialling, linked to a road racing circuit.
He took his ideas to the local authority, and the concept grabbed the attention of Laurence Tricker, now the project manager for Kent County Council
"Tony was the catalyst, he was the one who had the germ of an idea to say we should make good use of this land for the community, for sports," said Tricker.
Though disappointed that his idea of using the old A2 has disappeared - the old road has been landscaped - Mack is delighted with the layout of multi-sport country park now being laid out, which is set to transform his otherwise bleak strip of land
"I am hugely proud as to what will happen at Gravesend." He said, on the occasion of the third visit there by Hugh Robertson (pictured), the Minister for Sport and the Olympics.
"This is an absolutely fantastic facility," said Robertson, when he visited the site recently to officially mark the occasion of the start of work. (Cycling Weekly, February 10/and website, February 4).
The park will consist of a 2.9-kilometre road circuit, incorporating four shorter loops, a 340-metre BMX track, a skate park and mtb trails
All of this is to be set within a mix of wooded areas and gentle rolling grasslands. A pavilion will overlook the road circuit and BMX track.
On the day of his inspection, Robertson, the MP for Faversham and Mid-Kent, was joined by the Leader of Gravesham Borough Council, Cllr Mike Snelling; Deputy KCC Cabinet Member for Environment, Highways and Waste, David Brazier; KCC Deputy Cabinet Member for Communities, Avtar Sandhu MBE; and representatives from Volker-Fitzpatrick, Sport England and the Cyclopark Board.
Partners of this ambitious project include several national governing bodies, including British Cycling, International Mountain Bike Association, CTC, the national cyclists' organisation, and Cycling Time Trials.
"All attendees agreed that the project will be an asset for the entire region; and a Kent Thameside gateway to sport, leisure and recreation through its impressive service provision and good links with Jeskyns Farm, Ashenbank Woods and Shorne Country Park," said Kent CC spokesperson.
Mack is already looking ahead to the opening day: "Perhaps we can celebrate with a fly-past by the Red Arrows," he remarked, casually.
Thank you for reading 20 articles this month* Join now for unlimited access
Enjoy your first month for just £1 / $1 / €1
*Read 5 free articles per month without a subscription
Join now for unlimited access
Try first month for just £1 / $1 / €1