Watch: Tom Pidcock shows off descending skills as he smashes LA downhill
Yorkshireman brings out all his best Tour de France chops for 'sketchy' ride down Tuna Canyon descent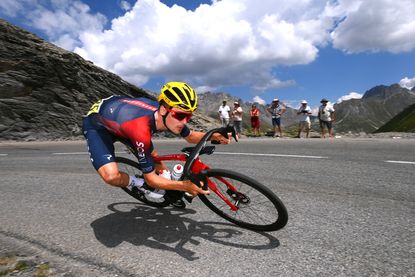 (Image credit: Tim De Waele / Getty)
Tom Pidcock has been showing off more death-defying descending antics, this time in California, where he teamed up with local filmmaker 'Safa Brian' Wagner to take on the steep and twisty Tuna Canyon downhill.
Reprising the skills that had bike racing fans with their hearts in their mouths last July when the Ineos Grenadiers rider dropped off the side of the Col du Galibier like a stone before winning on Alpe d'Huez, the 23-year-old Yorkshire rider threw himself down the hill. Reaching speeds of 70kph and averaging 36.3mph (58.4kph) on the three-mile descent, Pidcock looked fearless as he held onto a sometimes wayward back wheel around tight bends and made mid-corner, high speed corrections to stop himself plunging off the edge of the road.
Equally impressive was the fact that Safa Brian – who holds the Strava KoM for the descent – managed to follow him without apparent trouble.
The video was part of Safa Brian's Descent Disciples series on YouTube, and premiered yesterday.
"The best rider on the planet dropped by Los Angeles and decided to have a crack at our most infamous descent, Tuna," says the intro.
At the bottom of the climb, having reached the seafront having started at 445m altitude, a grinning Pidcock pronounced, "That was a bit sketchy… but we survived".
"Nice to ride with the King of Downhill," he added, presumably referring to his experience riding with Safa Brian, though coming from arguably the best descender in the pro peloton, it could easily work the other way around.
Many bike racing fans were introduced to Pidcock as a demon descender on that Alpe d'Huez stage at last year's Tour, where his high speed ride down the Galibier looked more like something from Moto GP and had everyone, including other bike riders, shaking their heads in disbelief.
At the time, Pidcock put his ability down to his many after-school off-road forays into the woods. "I've become very used to riding the bike and handling it where it's on the limit of control," he said.
His father Giles told Cycling Weekly, "I've followed him down mountain bike tracks and mountain passes before and it's like the bike is part of him. He knows exactly what each milimetre of tyre on the tarmac is doing, and it's just an amazing natural ability."
Thank you for reading 20 articles this month* Join now for unlimited access
Enjoy your first month for just £1 / $1 / €1
*Read 5 free articles per month without a subscription
Join now for unlimited access
Try first month for just £1 / $1 / €1